Staff thanked for a total of 2 680 service years
During a recent recognition event staff with a total of 2 680 years of service were praised for their years of service at the North-West University's Potchefstroom Campus.
During the event the rector, Prof Fika Janse van Rensburg, thanked the staff and said: "I want to thank each one of you who gave your best years to us."
He said that he hoped that everyone will look back and see that it was all worthwhile and that all the work was part of their praise to God.
Altogether seven staff members received their 40-year awards. They are Profs Gerrit Ferreira (Law), Johannes van Rooyen (Physiology), Susan Visser (Vice-Rector), Dr Alida Nienaber (Psychosocial Sciences), Mss Yvonne Visagie (Eco-Analytics) and Jubrie Oosthuizen (Ferdinand Postma Library) and Mr Trommeltjie Maje (Technical Services).
The following staff members received their 35-year awards: Profs Hugo Huisman (HART), Kobus Pienaar (dean of Natural Sciences) and Mike Weyers (Social Work).
Sixteen staff members received their 30-year awards, sixteen their 25-year awards, seventeen their 20-year awards, forty their 15-year awards, and fifty their 10-year awards.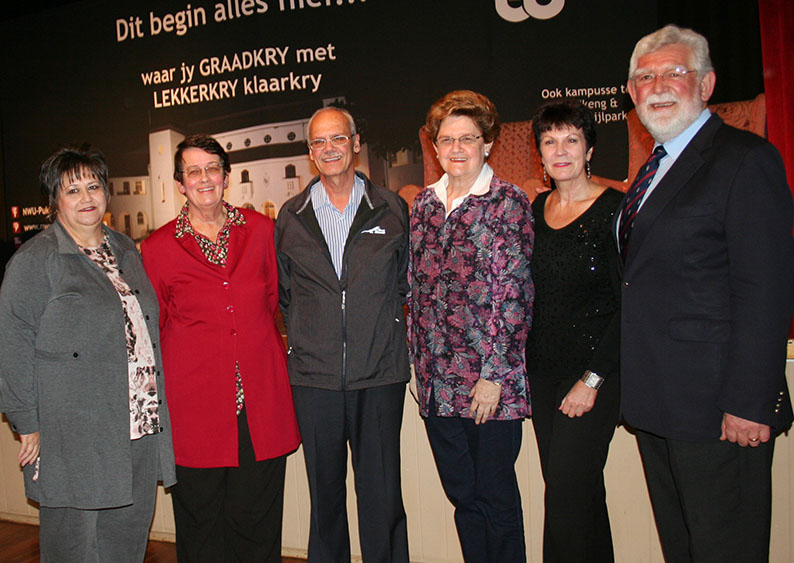 Staff members who received their forty-year awards are from the left Ms Yvonne Visagie, Dr Alida Nienaber, Profs Johannes van Rooy, Susan Visser, Ms Jubrie Oosthuizen and Prof Fika Janse van Rensburg (rector of the Potchefstroom Campus).