Space scientists gather at NWU
Several international scientists recently attended a workshop on the Potchefstroom Campus of the North-West University (NWU) to analyse and interpret data from the SKA (Square Kilometre Array) telescope and KAT-7 antennas.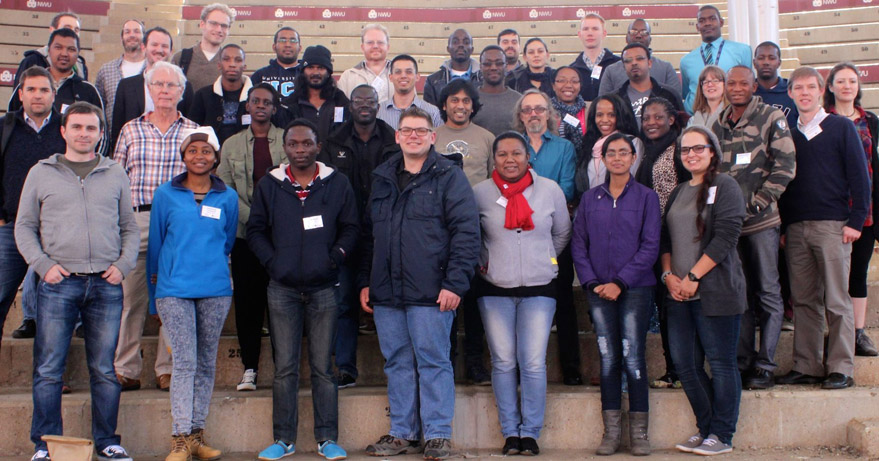 The SKA telescope is one of the biggest scientific experiments of the twenty-first century and is being built in Africa.
According to Dr Ilani Loubser of the Centre for Space Research at the NWU it will eventually consist of thousands of radio antennas that will be built across Africa, as well as a component in Australia.
South African scientists and engineers demonstrated the technological development by building seven antennas (KAT-7) near Carnavon in the Karoo that had already delivered interesting scientific results.She said that the next step was under construction and would consist of 64 antennas (MeerKAT). "When MeerKAT is ready in 2017, it will already be one of the most powerful telescopes in the world, but only the beginning of SKA (SKA Phase 1) "The first five years of observation time on MeerKAT have already been allocated to teams consisting of more than 500 scientists from around the world."
Loubser said that the attention of the world is on South Africa, and that a multi-billion rand project on this scale holds many challenges. Besides the technological and engineering challenges, development of human capital is one of the biggest priorities of the SKA project. "Hundreds of students have to be trained as astronomers and engineers in order to run the project successfully. These students are not only from South Africa, but also from many other African countries where antennas are going to be built."
She said that the workshop had brought together twelve lecturers from the NWU, the SKA project, the Hartebeesthoek Radio Observatory, Cape Town, Canada, the Netherlands and Australia to teach 35 postgraduate students and postdoctoral fellows from various African countries to reduce data from KAT-7 and MeerKAT. The students were from, among other places, Mozambique, Mauritius, Madagascar, Gambia and Zambia.
Loubser said that everyone had the opportunity to analyse and interpret new KAT-7 data during the intensive workshop in order to be better prepared for the development of the SKA.
The NWU is closely involved with scientific planning and interpretation for the SKA project, but especially with the training of postgraduate students for the project. From 2016 the NWU will also be one of three National Astronomy and Space Science postgraduate training-programme nodes (NASSP) where students will be able to register for a national programme.
PHOTO: The group of international students and lecturers who attended the workshop: Radio Interferometry: preparing for the SKA and MeerKAT on the Potchefstroom Campus.