SoftLandings Platform SA – linking Dutch SME's with local markets and entrepreneurs
The Faculty of Economic Sciences and Information Technology on the Vaal Triangle Campus of the North-West University (NWU Vaal) is offering students an innovative opportunity to not only gain experience in conducting real-time market research, but also to learn more about the practice of entrepreneurship.
Students within the BCom field of study are invited to join the South African SoftLandings team and conduct research for Dutch companies wishing to enter the South African market. Besides gaining valuable experience and soft skills training, students can earn R3 000 in the process. Students who are interested in taking part in this project should apply before 31 January 2017 by visiting www.nwubhive.incubatorportal.com and selecting the SoftLandings option.
More about the SoftLandings Platform
According to Prof Herman van der Merwe, executive dean of the faculty, the SoftLandings Platform has been established with the greater vision to build a sustainable and viable relationship between Dutch companies and entrepreneurs and the South African market. Prof Van der Merwe adds that as a member of  BRICS, South Africa is the second biggest economy of Africa and with its high-end infrastructure the country is the designated gateway to the rest of the African continent. Sectors such as clean energy, water, agriculture, information and communication technology, transport and logistics, raw materials, mining and healthcare are considered to be critical sectors in the coming decades.
The project supports and enables Dutch Small Medium Enterprises (SME's) to explore and do business in South Africa by means of a "soft landing" or a trial period within the South African market. Through the project Dutch enterprises can get in touch with local business suppliers, partners, customers, knowledge institutes and network organisations. Furthermore, the project supports these SME's by delivering quality market research, regulatory advice and business development.
The SoftLandings Platform South Africa is an initiative of Rijksdienst voor Ondernemend Nederland (RVO), together with the Dutch Ministry of Economic Affairs, CINOP Global and the Vaal Triangle Campus and is managed and coordinated from within the bhive Enterprise Development Centre (EDC) on the Campus.
For more information please contact Dr Marko van Deventer on (016) 910 3527 or send an email to marko.vandeventer@nwu.ac.za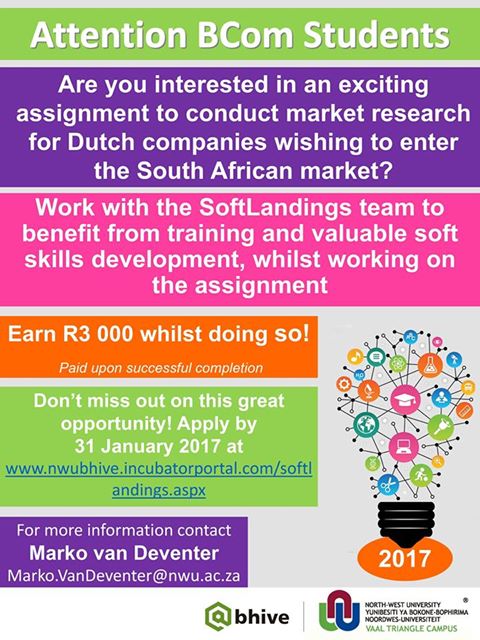 Location
Vaal Triangle Campus
Hendrik van Eck Boulevard
Vanderbijlpark
South Africa