Social workers – giving hope to a broken world
It was Anne Frank who said that a single candle can both defy and define darkness, and in 2017 these words still ring true – especially for social work students and practitioners.
The second-year social work students from the North-West University's (NWU's) campus in Vanderbijlpark recently made – in the presence of their peers and family members – a solemn declaration to always perform their duties in an ethical and just manner.
Students in the professional four-year Bachelor in Social Work degree programme begin to apply their knowledge in practice and help clients during practical sessions and as such the Solemn Declaration Ceremony marks a special highlight in the students' preparation for their professional career.
The guest speaker of the day was Mr Bethuel Pusetso Mokoena – a practicing social worker at the Gauteng Department of Social Development and alumnus of the NWU. In his address he emphasised the importance of servant leadership as a defining attribute of a social worker. He furthermore used the analogy of a single burning candle to illustrate how passionate and competent social workers not only have the ability to give hope to individuals and communities blinded by their circumstances, but also how the younger generation of social work practitioners can ignite the profession.
"As you are seated here today, you carry with you the immense responsibility to change the negative perception associated with the profession. Don't wait until you graduate to don the proverbial robes of the profession – start today. Life each day as if you are already a professional social worker. Write, speak and dress like a professional and above all kindle the passion you have for others," said Bethuel.
By taking the solemn declaration, Bethuel explained to the students that they are not only entering into a contract with the profession and their future employers, but also with themselves, the NWU, their parents and their peers. "Ultimately you are publicly committing yourselves to the upliftment of the most vulnerable and at risk members of society. You are, therefore, stepping forward and shining your light in a world of darkness."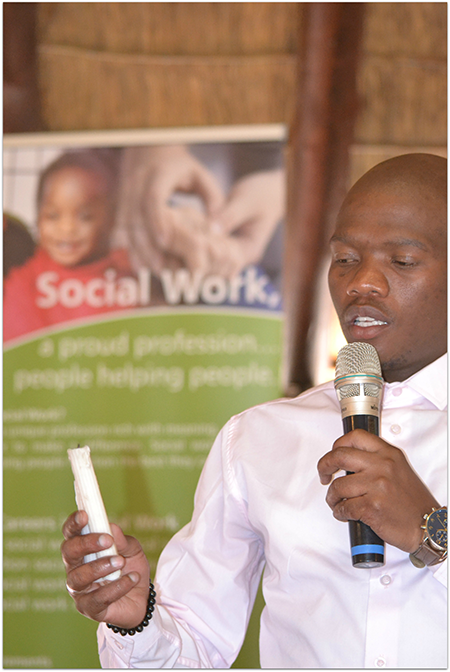 Mr Bethuel Pusetso Mokoena, a practicing social worker at the Gauteng Department of Social Development and alumnus of the NWU, was the guest speaker.