Self-directed learning the focus of new research
A new research focus area was recently launched within the Faculty of Education Sciences of the North-West University.
The research will focus on Self-Directed Learning under the direction of Prof Elsa Mentz and will strive to promote, through excellent research, self-directed learning that will lead to life-long learning in all education sectors.The focus area will conduct relevant research on strategies and contexts that contribute to the development of self-directed learning skills. Six sub-programmes within the focus area will also focus on different aspects of self-directed learning.
During the launch Mentz said we cannot teach the same way today as we did 40 years ago. She quoted from research and said students doing a four-year degree will realise by their third year of study that half of what they learned in their first year is out of date. The top ten job opportunities that were in demand in 2013 did not exist in 2004.
"We therefore prepare students for job opportunities that do not yet exist, use technology that has not been invented yet and the problems that we expect them to solve have not even been identified as problems."
"We must train students who exhibit initiative, independence and persistence in their learning process, who accept responsibility for their own learning and view problems as challenges and not obstacles. People who can apply self-discipline, remain curious and have a need to always learn more, who enjoy their learning and above all, who are goal-oriented and determined to attain learning outcomes. This is a self-directed learner."
Self-directed learning and a deeper desire for learning occur when the teachers intentionally support the student in his search for his own unique desire for learning. Those teachers must nurture students' 21st century skills and help them to change that which they learn into a life-long pattern of deeper learning.
Mentz said there are six sub-programmes in the focus area with the common focus on self-directed learning that runs through all these programmes like a golden thread. The sub-programmes will, within the theoretical foundation of self-directed learning, focus on blended learning, cooperative learning, metacognition, problem-based learning and assessment.
The Vice-Rector of the Potchefstroom Campus, Prof Amanda Lourens, congratulated staff with the hard work that has already been done with research in this field and paid tribute to Profs Cornelia Roux (current research professor) and Petra Engelbrecht (previous dean of Education Sciences) under whose direction the research came into existence.Lourens said the new RFA contributes to the high research profile that the North-West University maintains.
• Another research unit, Edu-HRight, was launched within the faculty in November last year. The research focuses on generating new knowledge regarding education and human rights in diversity. Prof JP Rossouw heads this unit.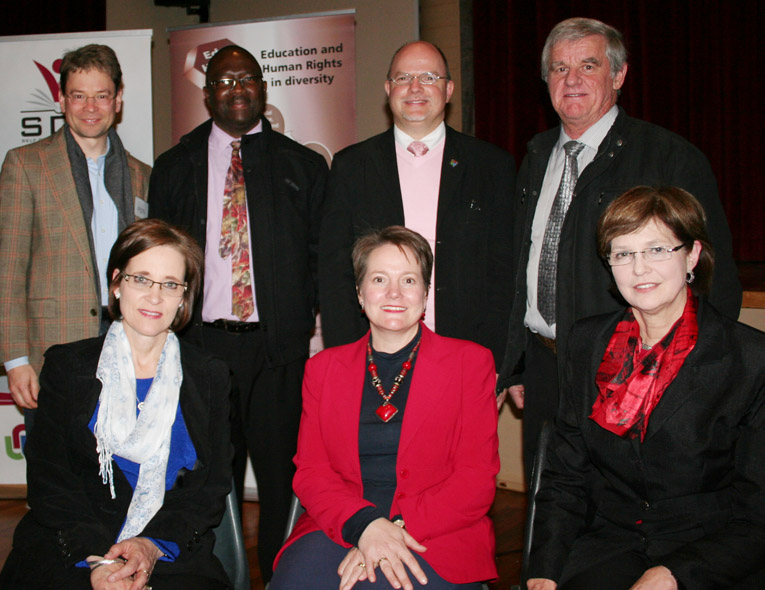 PHOTO: Guests during the launch of the new research focus area are (front) Profs Elsa Mentz (Director of the RFA), Amanda Lourens (Vice-Rector: Research and Planning) and Cornelia Roux (research professor). At the back are Profs Dr Hermann J Abs (University of Duisburg-Essen in Germany), Rantoa Letsosa (designated Vice-Rector: Teaching-learning), Robert Balfour (Dean Education Sciences) and JP Rossouw (Edu-HRight Research Unit).