School of Accounting honors chartered accountant
The School of Accounting on the Mafikeng Campus of the North-West University (NWU) recently honored Frazeen Bootha upon her admission as a chartered accountant [CA(SA)]. She is now part of a distinguished group of chartered accountants who has studied with the school.
The school keeps a roll of honour on which the names of former students (alumni) who have obtained the prestigious CA(SA) designation are published. The board already boasts the names of 24 registered chartered accountants; a significant achievement for a school which only started a few years ago. To crown it all, the names of an additional 14 former students will be added to the board once they have completed their training. 
To become a CA(SA) the minimum requirements for university admission are a Level 5 pass in Mathematics, together with a National Senior Certificate with matriculation exemption. Pure Mathematics (not Mathematical Literacy) as a subject is also one of the main requirements as well as a good grounding in English as it will assist in understanding the concepts that will be studied.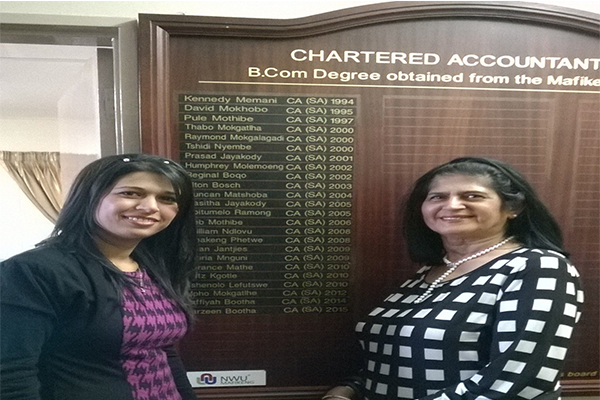 Frazeen Bootha (left) at the Roll of Honour