SAWHAR: science and technology insights for tomorrow's water calamities
Cape Town's drought crisis in 2018, also referred to as Day Zero, serves as a wake-up call to all South Africans to once again become more aware of the importance of water in the 21st century. 
This awareness also includes academic research into innovative solutions for future problems.
According to Prof Johann Tempelhoff, an extraordinary professor in the North-West University's (NWU'S) School of Social Sciences, South Africa is fast becoming a veritable hotspot for information on future global water trends.
This 'hotspot' refers to the South African Water Archival Repository (SAWHAR) situated at the NWU's campus in Vanderbijlpark.
In his capacity as SAWHAR's project leader, Prof Tempelhoff explains that the archival repository contains a wealth of information that is of immense value to water sector workers working on resolving future problems since many 'new technologies' have a long history of development.
Climate change, global migration trends, rapid urbanisation and population growth are key drivers of the demand for water in a world where conventional water resources may be running out of sufficient supplies before the end of the 21st century.
SAWHAR: bridging the gap between yesterday and tomorrow
Founded in 2013, with the support of South Africa's Water Research Commission, SAWHAR is home to the famous Waterlit Collection – a catalogue of water-related science and technology information dating back to the 1970's. 
This collection of more than 300 000 titles, contains information of conference proceedings, academic and popular water science and technology.
According to Prof Tempelhoff the collection contains a wealth of valuable information for science and water experts.
For example: Since the 1950's South Africa's Council for Scientific and Industrial Research (CSIR) was at the forefront of trends in water re-use and treatment systems. CSIR water specialist played a crucial role in the development of Namibia's capital city, Windhoek, with appropriate technology for purification by the late 1960's. Today Windhoek is still a global benchmark for developing superb urban water systems in water-stressed areas of the world.
With this said, SAWHAR is also home to a number of personal collections of water sector workers and researchers, honing their craft in government departments and private sector consultancies both locally and abroad.
The collection also includes a considerable amount of international science technology and popular material from many parts of the world.
SAWHAR – a hub of digitised information
According to Prof Tempelhoff, SAWHAR is capable of providing an information service to professional water sector workers, researchers, consultants and both undergraduate and postgraduate students.
The service is provided free of charge and members of the public wanting to make use of the service are requested to communicate with the SAWHAR staffers to apply for membership. Once registered it would be possible to help researchers locate information from the public and private collections in the archive.
For more information, please email Nadine Smit: 23507810@nwu.ac.za or Prof Johann Tempelhoff: johann.tempelhoff@nwu.ac.za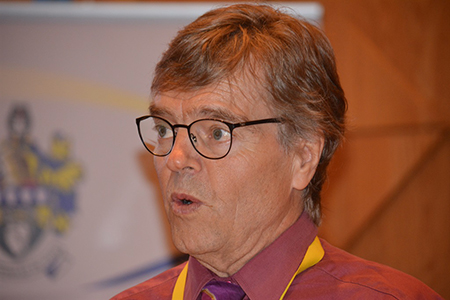 Prof Johann Tempelhoff.