Radiyah's brave road to success 
Radiyah Saloojee is living proof that an attitude of gratitude and thanksgiving not only serves as a road marker on the journey to success, but also a stepping stone to accomplishment. For this 24-year old alumna of the North-West University's (NWU's) campus in Vanderbijlpark, each day represents a new opportunity to excel and in doing so, making the world a better place.
During the recent Autumn Graduation Ceremony of the campus Radiyah was awarded the coveted Excellent Academic Achievement Award for her overall best performance within the BEd foundation phase degree course. During her four years of study she obtained 55 distinctions and maintained an average of 83,38 percent. What makes Radiyah's achievement even more remarkable is the fact that she has had to endure challenges pertaining to her health in addition to the pressure associated with university studies. "Throughout my life, I've been in and out of hospitals and I've faced many challenges – but what fun would life be without them? Each of these challenges has made me stronger and wiser," says Radiyah.
Radiyah's good academic performance ensured her membership to the Golden Key International Honour Association, and in 2015 she won one of four coveted Scholarship Awards as well as the prestigious Chapter Award.
In Radiyah's matric year at the Roshnee Islamic School – where she was the chairman of the school's Youth Forum – she fell ill just before writing her trial exams. Doctors found ulcers and open wounds in her throat all the way down to her stomach and she was subsequently hospitalised for the duration of the exam. "It was then – thinking of how I would cope without having written a trail exam – I realised that through hard work, determination, perseverance, faith in the Almighty, and selflessness everything is possible," says Radiyah who, through her faith in God and the support of her family, achieved five distinctions at the end of her matric year. Her good results also saw her taking her place on the stage as one of the top achievers in the Sedibeng Education District.
Achievement that goes hand-in-hand with humility
Asked why she decided to study towards becoming a teacher, Radiyah says that teachers shape the world and contributes to the upliftment of the youth. "I want to be a change maker and I believe that teaching is a labour of love. Everyday teachers from all corners of the world are doing their bit to make the world a better place by believing and inspiring each new generation."
Radiyah's road to success is not only one of perseverance, but also of servant leadership. In 2010 she was selected to represent South Africa at the international People-to-People Leadership Summit in the USA. In the same year she appears on the popular SABC television programme Big Up as part of the programme's Inspirational Youth segment.
Together with a group of about 10 other individuals (aged between 20 and 40 years), Radiyah founded the non-profit organisation (NPO), Purple Bandage. Through the work of Purple Bandage young people from all walks of life are empowered by means of social upliftment and development interventions. The organisation – which functions both nationally and internationally – works closely with other NPO's such as Gift of the Givers and the Al-Imdaad Foundation. As a director of the NPO, Radiyah lives by the NPO's motto: Healing Humanity.
"As a devoted Muslim, my religion encourages me to always give back to those less fortunate. The beauty of community work is that it makes you intensely aware of how blessed you are, despite your own challenges. By helping others you get in touch with your deeper purpose on earth," says Radiyah.
*Radiyah is currently furthering her studies through UNISA, focusing on mathematics for intermediate and high school education.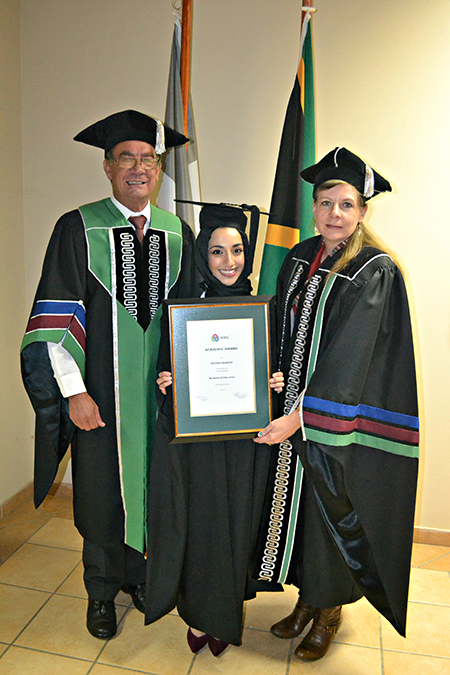 Radiyah received her award from Mr Neels Vermeulen, the campus registrar, and Prof Linda du Plessis, deputy vice-chancellor for assignable functions and campus operations.