Prof Ermie Steenkamp's dream comes true
This month the Faculty of Economic and Management Sciences on the Potchefstroom Campus of the North-West University (NWU) proudly opened the doors of its Centre for Economic Literacy.
This centre, dedicated to Professor Susan Visser, former dean of the faculty and currently vice-rector for research and planning, is the brainchild of Prof Ermie Steenkamp and was established to fill a concerning gap in the economic literacy of prospective students. Research has shown that students registering for introductory courses in economics at the NWU, NMMU and Rhodes are only 50,8% economically literate. It was also found that only 32% of adults are financially literate.  
"Ermie came to me last year and said she had a dream. I told her: Ermie, tell me about your dream," Prof Jan van Romburgh, acting dean, explained at the inauguration of the centre.  
And she did.
"Now, less than a year later, we are there."
To Steenkamp this is the highlight of a decade's suiting the action to the dreams.  
"The seed was planted ten years ago at a seminar in Mexico when I was part of a team that visited an economic literacy museum. Now, ten years later, that idea has been developed," she said.  
"Our target market is Grade 10 to Grade 12 learners and our objective is to support the school curriculum. One of the ways in which we intend doing this is through graphic representations and interactive games. Even if only one thought remains with the learners, we hope that this will enable them to become better citizens who can make a contribution to the country's economy."
The centre is big enough to keep a class of 30 learners busy. Various computer and board games are on offer and there is a movie theatre that shows ideas and lessons from the financial world. This is done to make learners aware of important economic principles.
According to Steenkamp, the following are included: "Save timeously, spend less than your income, save for your retirement and save for emergencies, and for your children's education. We also teach them the power of compound interest."
"As far as the future is concerned, this is a platform from which we can start. We want to get more staff members from across the faculty involved and are already looking at adding tourism and business games," she says.
To Prof Rantoa Letšosa, vice-rector for teaching-learning, the value of this centre cannot be sufficiently emphasised.
"Jan and Ermie came to me with a dream. I immediately started dreaming with them and said that I would be one of the centre's first students. What does economic literacy mean to me? I come from a home where we lived directly from the hand to the mouth. There was nothing left over and then you get into trouble. People are quick to blame someone else and not to turn to yourself for the solution of the problem. Now you get into a position where you have money and you don't know how to work with that money," he says, and adds: "Schools are destroyed and everyone assumes that there is money to replace the schools. This is not the case. You have to learn at an early stage that the world does not owe you anything. You are responsible for your own future. That is why I am grateful for and excited about such a centre and I applaud this dream that becomes reality today."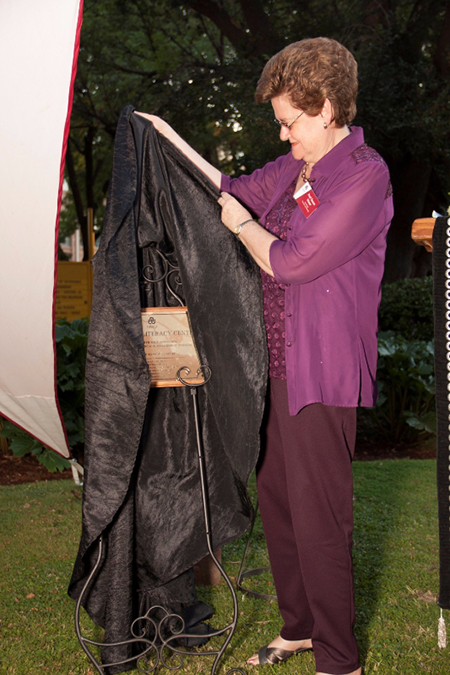 Photo: Prof Susan Visser, former dean of the faculty and currently vice-rector for research and planning, unveils the plaque during the recent opening of the Centre for Economic Literacy on the Potchefstroom Campus of the North-West University (NWU).