NWU Solar Car media team wins top honours
 NWU Solar Car media team wins top honours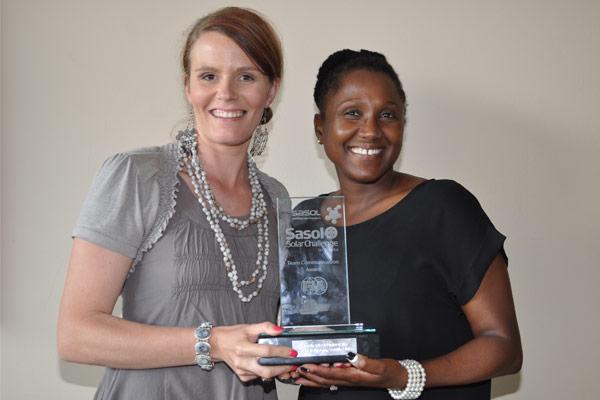 The media team for the NWU Solar Car [1] (Sirius X25 [2]) won the Team Communication Award during the 2014 Sasol Solar Challenge [3].
Sasol and the International Automobile Federation (FIA) [4]awarded them for excellence in social media presentation. The winners were determined by the international advertising, marketing and public relations agency, Ogilvy & Mather [5].
Sirius X25 came fourth in the competition. It was second of the South African solar cars, only 60 km behind the University of KwaZulu-Natal (UKZN) and 700 km ahead from the fifth place winner, the University of Johannesburg. Delft University of Technology of the Netherlands won the challenge.
The media team was fully behind the Sirius X25 for the duration of the exciting eight-day endurance challenge.
Karlé le Roux, marketing manager of the team, says they received the award because they were the team that engaged the most online. "What set us apart from other teams was that we had an agenda. We were strong on promoting information actively and regularly via Twitter [6], Facebook [7] and the NWU Solar Car website [1]."
She says they provided Sasol with a lot of retweetable material. "Other teams relied on tweets and and Facebook updates from Sasol. Our up-to-date information supplied Sasol with fresh links and information. This resulted in a boost in our number of Twitter followers, Facebook friends and visitors to the NWU Solar Car website. We even received retweets from the team of the Netherlands."
Karlé says SiriusX25 and its media campaign were the perfect opportunity for internationalisation and future student recruiting.
She says their integrated approach would not have been successful without the hard work of the team that made it possible. Karlé, Cobus Steenkamp and Corneels Schabort, together with the outsourced video team, Corné Scheepers and Andrew Wallace, were on the scene to make sure that every bit of information, photos and footage was compiled and distributed. The 'home team' at the university consisted of Moira Müller, Ronel Röscher and Géna Thompson. They ensured that information was regularly updated on the NWU Solar Car website and monitored the live tracking on the NWU's social networks. Jean-Marc Stidworthy and Jimmy Pressly garnered support from the Potchefstroom Campus and played pivotal roles in showing that the university was actively supporting Sirius X25.
The team agrees that the 2014 Sasol Solar Challenge was a wonderful experience. "It was very exciting. We learned a lot and look forward to the next challenge," says Karlé.
Congratulations on a job well-done. Phumzile Mmope, Executive Director of Institutional Advancement at the NWU's Institutional Office congratulates Karlé le Roux, marketing manager of the NWU Sirius X25 media team- on winning the prestigious Team Communication Award.