Presidential Award for NWU's Dr Molepo
It is almost that time of the year again for the North-West University's (NWU's) Dr John Molepo and a number of graduates to hit the streets of Potchefstroom, Pretoria and Polokwane draped in their graduation regalia.
This year will be more sentimental as they walk between hundreds of cars, asking motorists for donations for the #ThusaNgwanaGeno Youth Empowerment initiative.
Dr Molepo, who is a lecturer at the School of Government Studies and founder of #ThusaNgwanaGeno, an initiative that assist university students who are less fortunate, recently received the Presidential Award in the Compassion category.
The Presidential Award was founded to acknowledge the efforts and characteristics of citizens who are demonstrating presidential characteristics in their everyday lives.
The award categories, Compassion, Bravery, Endurance and Leadership have been inspired by some of the traits exhibited by Nelson Mandela over his lifetime.
Dr Molepo received the award in recognition of the valuable contribution he has made in his community. He was also commended for his focus on capacity building among the youth.
"I feel privileged to receive such an award, but I can confidently say that this is not just for me, but also for all people who are selflessly contributing to changing someone else's life," says Dr Molepo.
Help your brethren
#ThusaNgwanaGeno, which means help your brethren in Sepedi, was founded in 2017 and has assisted more than 265 students to date. During 2019 the initiative assisted approximately 200 students from various universities with stationery and registration and tuition fees.
The NWU applauds Dr Molepo for the #ThusaNgwanaGeno Youth Empowerment initiative and his commitment to social justice.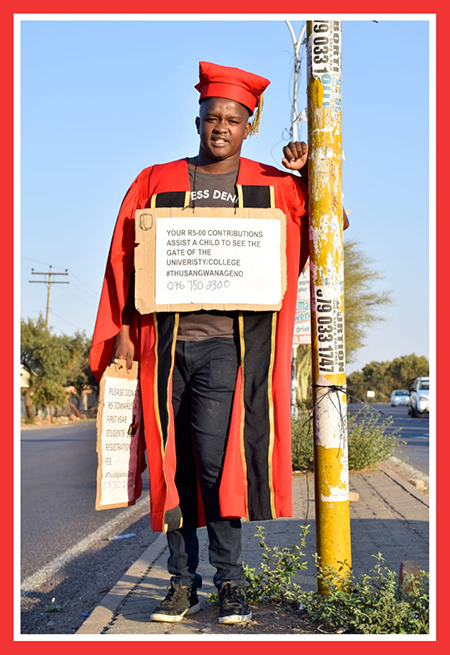 Dr John Molepo, a lecturer at the NWU's School of Government Studies and founder of the #ThusaNgwanaGeno initiative, received the Presidential award in the Compassion category.