President's office addresses NWU Mafikeng Campus graduates
The Director General in the Office of the state President, Dr Cassius Lubisi, addressed the Mafikeng Campus`s Autumn Graduation Ceremony as the guest speaker for the Faculty of Human and Social Sciences on 7 May.
During his address, Dr Lubisi urged the 466 students to become change agents in their societies. "I urge our graduates to be fired with renewed enthusiasm to practically change our country for the better, as active citizens participating in concrete development programmes, as the NDP directs us to do," he added.
Born in Nelspruit, South Africa, Dr R Cassius Lubisi attended primary school in the townships of Mbombela and Kanyamazane before leaving for Inkamana High School in Vryheid, where he matriculated in 1984
Dr Lubisi then went on to study at the University of Natal where he obtained a Bachelor of Science degree, a Higher Diploma in Education, and a Bachelor of Education degree. He then studied at the University of Nottingham in the United Kingdom, where he was awarded a Doctor of Philosophy (PhD) degree in 2000.
Prior to his current appointment as Director-General of the Presidency and Secretary of the Cabinet of South Africa, Dr Lubisi served as Special Advisor to the former Minister of Education, Professor Kader Asmal in 2003 and, in 2004, as Deputy Director-General: General Education in the Department of Education in Pretoria. He served as Superintendent-General of the KwaZulu-Natal Department of Education from June 2005 to October 2010.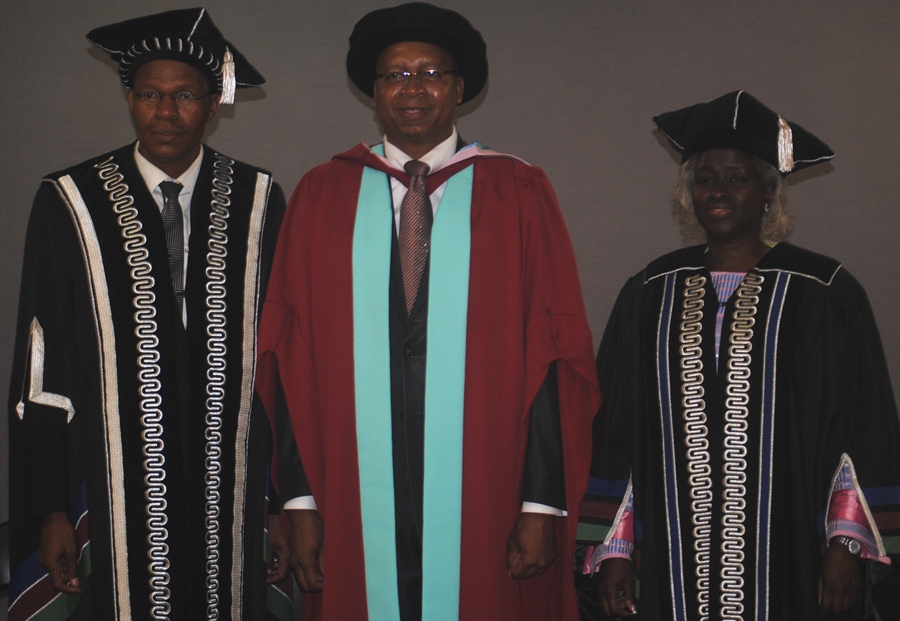 Dr Lubisi (middle) with the Vice-Chancellor, Prof Dan Kgwadi (left) and the
Campus Rector, Prof Davhana-Maselesele