Potchefstroom campus takes ownership of "Pukke" in dictionary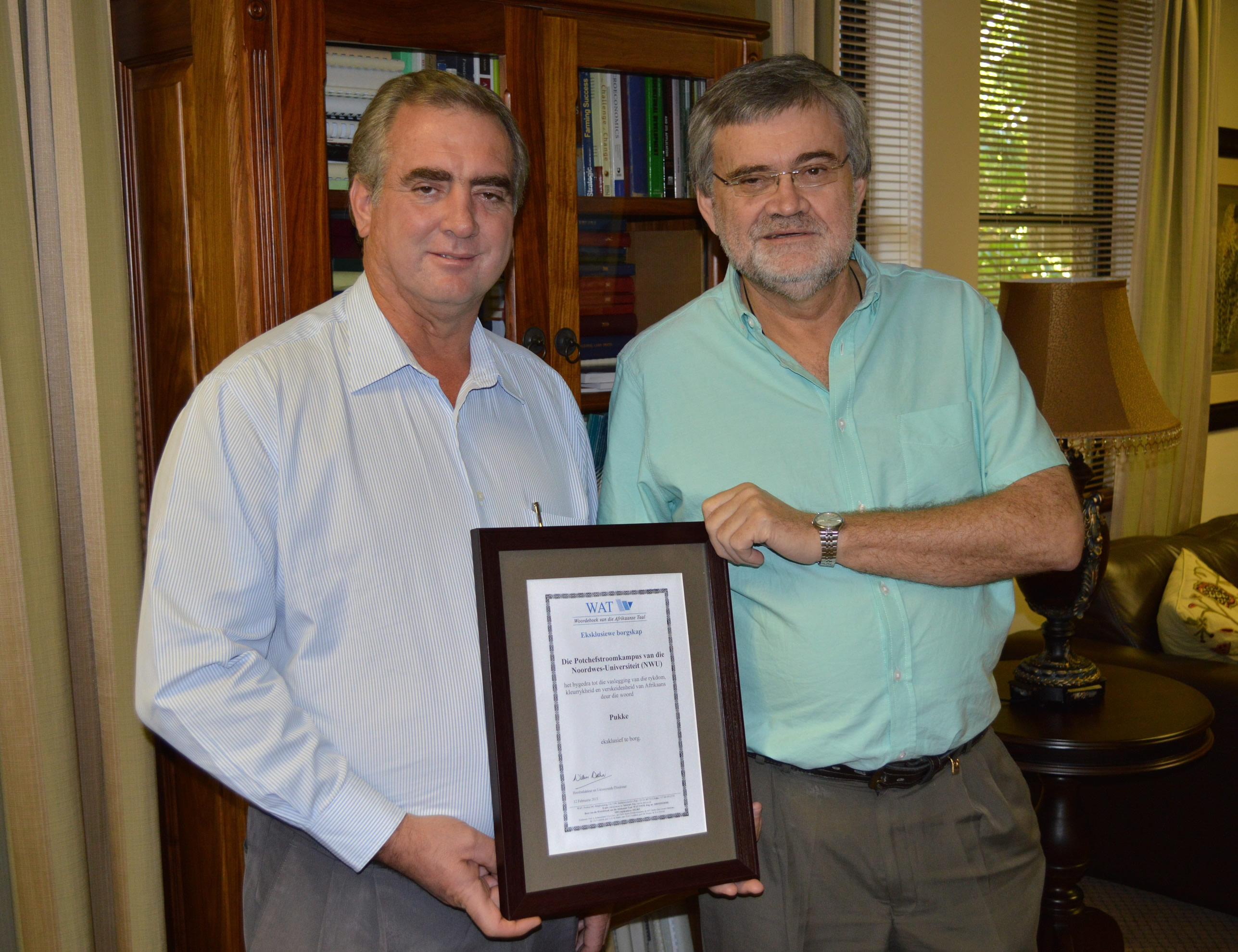 The Potchefstroom Campus of the North-West University once again emphasised its support for the Afrikaans language by supporting the "Borg 'n Woord" (Sponsor a word) project as part of the 90th anniversary of Afrikaans. It is a project which the Woordeboek van die Afrikaanse Taal (WAT) (Dictionary of the Afrikaans Language) launched in 2011.
According to Prof Herman van Schalkwyk, rector of the Potchefstroom Campus, he will continue to promote and protect Afrikaans. "In celebration of the 90th anniversary of Afrikaans as official language in the 'Afrikaans 90-veldtog' (Afrikaans 90 campaign, I encourage those interested to support the Borg 'n Woord project."
Participants can sponsor any Afrikaans word at R100 per word to ensure the survival and development of Afrikaans. The Potchefstroom Campus sponsors the word "Pukke" exclusively, as well as 10 other Afrikaans words that include: kampus (campus), kwaliteit (quality), kwaliteitopleiding (quality training), navorsing (research), NWU (Noordwes-Universiteit – North-West University), Potchefstroom, student (student), studentelewe (student life), uitnemendheid (excellence) and universiteit (university).
The NWU is also an anchor donor of the Woordeboek van die Afrikaanse Taal that strives to record the vocabulary of Afrikaans. The work involved in the WAT is a scientific practice leading to the publication of a dictionary that can be used as a noteworthy training, research and instructional tool.
Prof Van Schalkwyk challenges individuals and institutions in Potchefstroom to become part of the project.
Photo:
Prof Herman van Schalkwyk recently presented sponsorship certificates of the WAT to Prof Wannie Carstens, Director of the School of Languages at the Potchefstroom Campus. Prof Carstens is also a board member of the bureau of the Woordeboek van die Afrikaanse Taal.