NWU master's student producing oyster mushrooms in Mahikeng
Oyster mushrooms usually grow in temperate and subtropical climates and fare poorly in hot, dry conditions. Breaking with convention, a master's student in crop science at the North-West University's (NWU's) Mafikeng Campus is successfully cultivating oyster mushrooms in the arid climate of Mahikeng.
Mr Sydwell Sihlangu, under the supervision of Dr Khosi Ramachela, undertook his research on innovative, low-cost production of oyster mushrooms as a food security initiative.
The town of Mafikeng is known for its harsh summer season with temperatures reaching 37 degrees Celsius, making the area inhospitable for many plant species, including the kind of mushrooms Sydwell is growing and harvesting.
His thesis on the effect of plant substrates and growth hormones on the oyster mushroom led him to a new and unexpected discovery that is believed to be a world first.
The oyster mushroom is one of the most important macro fungi that produce high levels of quality protein from various agro-wastes. Hot, dry Mafikeng is poles apart from the mushroom's normal habitat, making Sydwell's work a milestone for crop science and a major development in food security.
He came up with the idea of using crop residues to grow oyster mushrooms as a way to boost the revenue-generating potential of small-scale farmers. His thinking was that bringing non-conventional crop production techniques into the existing agricultural systems could boost their socio-economic status.
Various factors influence the growth of mushrooms, such as growth media and plant growth hormones. Sydwell's aim was to investigate the effects of different plant substrates and growth hormones on the growth characteristics and nutrient content of oyster mushroom species in arid and semi-arid regions.
Born in Mpumalanga, he intends to continue working with and training small-scale farmers so that they too can grow and thrive.
Commenting on his breakthrough with the oyster mushroom, Sydwell says: "One can check the available literature on production of mushrooms in harsh summer conditions like Mahikeng. I am especially proud because it is a real breakthrough in terms of crop science. With this, I plan to work even harder and create more recognition for small-scale farmers and the important role they play in the country's economy."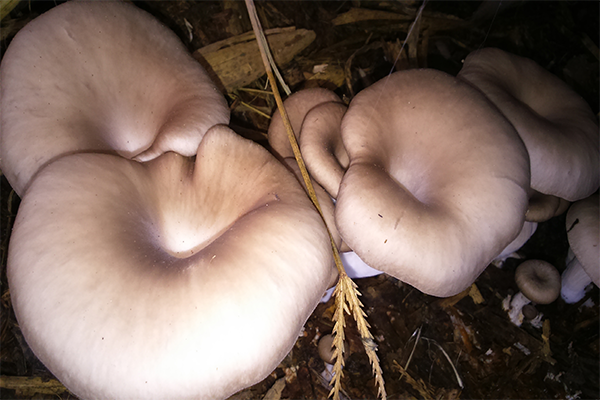 The oyster mushrooms grown on the
NWU Mafikeng Campus.