Oxford expert to lecture at NWU's Optentia
On 18 September 2018, Dr George Leeson, director of the Oxford Institute of Population Ageing at the University of Oxford in the United Kingdom, will act as guest lecturer at the North-West University's (NWU's) Optentia research focus area in Vanderbijlpark.
The topic of the lecture will be: "A gentle introduction to population development for multi-disciplinary understandings and operationalisation".
The importance of demographic analysis and population composition
Demography is the study of human population development over time and space based on the measurement of fertility, mortality and migration.
An understanding of demography presupposes an understanding of past development and characteristics of populations. Population composition and development is key to societal planning and the allocation of resources. Demographic analysis and an understanding of the social and economic consequences and causes of population development and demographic behaviour are vitally important. This is particularly crucial in the present demographic climate with low levels of fertility, ageing populations and global mobility of people and resources. (In recent decades population development has been dominated by unprecedented population ageing in both the developed and developing world.)
Dr Leeson's lecture will aim to provide a grounding in demographic methods and development, as well as a critical approach to the analysis of the social and economic consequences of population development in an increasingly ageing and mobile world.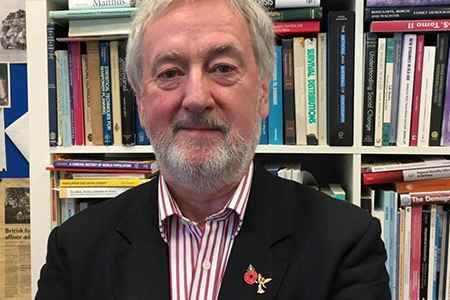 Dr George W Leeson
About the presenter
Dr George W Leeson is the director of the Oxford Institute of Population Ageing and a senior research fellow in demography at the University of Oxford. He is also a fellow of Kellogg College, Oxford, as well as a member of the Oxford Martin School and the university's Department of Sociology.
His research interests are in the socio-economic-demographic aspects of ageing populations, and he is responsible for Oxford's Global Ageing Survey carried out in three waves in more than 20 countries and including approximately 45 000 people between the ages of 40 and 79 years.
Dr Leeson is also a visiting professor of social demography at the University of Guanajuato-Leon in Mexico, and as a demographic expert he has been a member of the European Commission's team to develop a strategy for DG SANCO's policy and legislative framework to deliver on EU food safety and nutrition to 2050.