Optentia embraces the future with new Indaba Room tech
"From the time of our inception, competence development is our number one strategy. It is our guarantee to success." These are the words of Prof Ian Rothmann, Director of the Optentia research focus area on the Vaal Triangle Campus of the North-West University (NWU Vaal) at the launch of the newly installed technology in the Optentia Indaba Room on the campus. 
Prof Rothmann supported his statement by explaining that a part of the strategy of Optentia is to integrate competence in their respective disciplines. The second part is the manner in which the knowledge and experience within all research components are presented and shared. The Optentia Indaba Room now boasts a brand new system with a control panel and five input options, making it easy for a presenter to choose between using the existing touch screen computer in the room, his/her own laptop, wireless device, camera system, document camera or simple USB. The software installed will enable a presenter to open multiple channels e.g. using the document camera to show an illustration in a textbook, while running a Powerpoint presentation, and recording the entire session for students to refer to at a later stage or streaming it live to students watching from a second location. This being said, should the presenter only need to illustrate a problem using the document camera, there is no need for the computer to be switched on as this camera can function on its own. While the possibilities of the system seem to be endless, so are the benefits in the simplest of applications.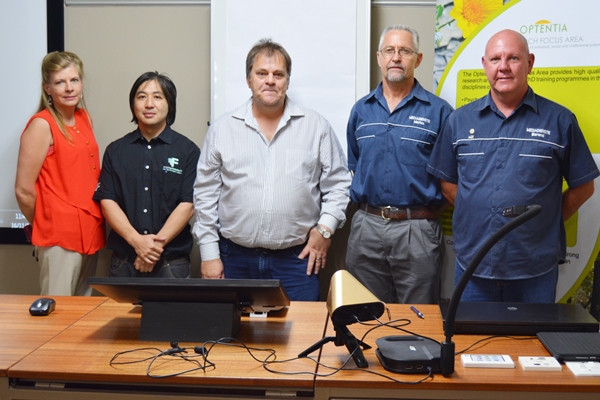 Prof Linda du Plessis (acting campus rector of the NWU Vaal), Mr Jonathan Ling (Forefront Presentation Media, Johannesburg), Prof Ian Rothmann (Director: Optentia research focus area), Mr Marius de Beer and Mr Barend Nel (Academic Support Services on the Potchefstroom Campus of the NWU), with the new system in the Optentia Indaba Room. 
Mr Barend Nel and Mr Marius de Beer from Academic Support Services on the Potchefstroom Campus of the NWU demonstrated the new equipment in detail and introduced/explained the endless teaching opportunities it includes.    
According to Prof Rothmann, the new technology in the Optentia Indaba Room is the second phase in the strategy of the focus area with phase three entailing an improvement in its international profile. "We would like to link with our counterparts on an international level", says Prof.Rothmann. "The third phase will require quality cameras and facilities making such a link possible."
Prof Rothmann concluded his address by thanking campus management for supporting the project.
Location
Vaal Triangle Campus
Hendrik van Eck Blvd
Vanderbijlpark
South Africa