NWU Vanderbijlpark scores big during national basketball tournament
The game of basketball is not only very popular on the North-West University's (NWU's) campus in Vanderbijlpark, it is also gaining in stature with both men's and women's teams ranking among the top in South Africa.
During the recent NWU Sasol Junior Basketball Tournament that took place at the Harry Gwala Multisport Centre in Sasolburg, the NWU Vanderbijlpark claimed top position in the women's division and second place in the men's division. The women in purple edged past Ekhurleni with a 41-39 victory while the men suffered a 44-31 loss against the Limpopo Tigers.
According to Sean McCallaghan, sport manager, the tournament produced some of the best basketball in many years. "Consistency, teamwork and a clinical execution of game plans throughout the three-day tournament were the cornerstones of success," says Sean.
Two of the NWU Vanderbijlpark's female players: Enanthi Petse and Cathlyn Gomwe, were included in the All Star squad. The Most Valuable Player (MVP) award was scooped up by Mapule Mwale. Mandla Sedna from the men's team made the cut for the All Star squad.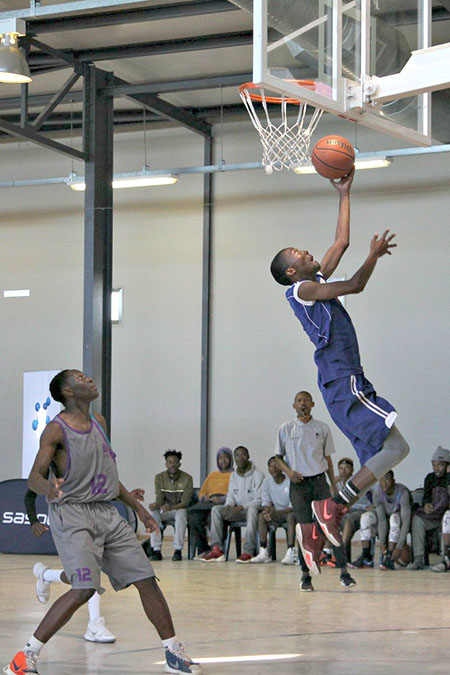 Action on the court. Photo: Ettienne van Rensburg