NWU Vaal receives visit from continental partner 
The Vaal Triangle Campus of the North-West University (NWU Vaal) recently played host to Professor Gideon Zhou from the University of Zimbabwe.
Hosted by the Department of Public Management and Administration, the twenty-eight day long visit, was for the purpose of sharing experiences with the department on teaching and learning, research and community engagement. Another topic of deliberation was the sharing of practises in the supervision of postgraduate students. This Prof Zhou covered in detail during his colloquium presentation titled: "Sharing experiences in postgrad supervision".
Prof Zhou also held several information sessions with the Department's PhD and Masters Students to discuss and assess their research proposals.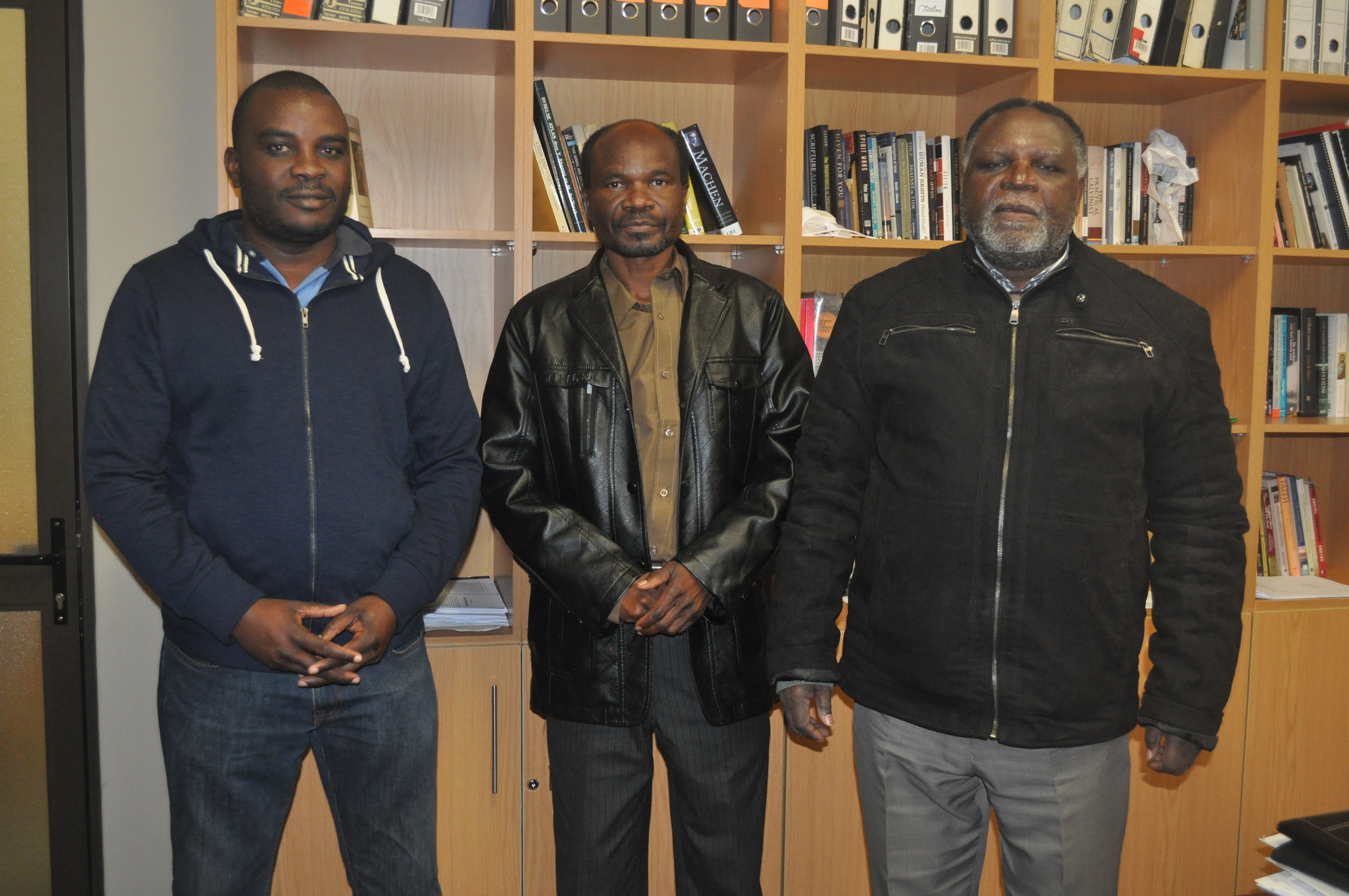 Prof C. Hofisi: Associate Professor and Chair of Public Management and Administration, Prof G Zhou: Visiting professor from University of Zimbabwe and Prof. C. Rabali: Acting Dean of Faculty of Humanities.
More about the visiting academic
Prof Zhou is a seasoned researcher with over 15 years of experience in academia, specialising in the fields of Public Policing; Public Finance Management and Public Sector Management. His association with the Vaal Triangle Campus – and more so the Department of Public Management and Administration, started in 2015 when the department invited him to contribute towards a chapter in a book they are compiling. The book, titled "New Public Management in Africa" is set to be published next year by the Taylor and Francis Group, one of the most reputable publishers within the academic realm.
According to Professor Costa Hofisi, Associate Professor and Chair of Public Management and Administration at the NWU Vaal, the visit was the first in a series of other planned visits which main aim will be to establish further collaborations with the University of Zimbabwe. "Over and above completing the book and sharing notes on the approach to postgraduate supervision, we also hope to sign a Memorandum of Understanding (MOU) with this university", says Prof Hofisi.
He further adds that the MOU (once signed) would greatly benefit the campus and the broader university community because it will give rise to programs such as student and staff exchange between the two universities and improved collaborative research. "The campus is fortunate to host people like him [Prof Zhou] who is an expert in his field and gives students and the department access to his knowledge and expertise", concludes Prof Hofisi.
Speaking of his visit to the NWU Vaal, Prof Zhou said overall it was an insightful stay emphasising that it is always great to have an interface with colleagues with whom you are pursuing research in similar areas of specialisation. "It was a learning curve for me. Personally, I have gained a lot from this visit and I look forward to my university harvesting from my experience here" he says.
Describing his stay, Prof Zhou says it was a very warm and friendly one and added that he certainly hopes to come back again soon.