NWU takes aim at "future nuclear"
The North-West University's (NWU's) School of Mechanical and Nuclear Engineering hosted the South African Network for Nuclear Education, Science and Technology (SAN – NEST) workshop on "Future Nuclear" research and knowledge creation, also known as "Green Frontiers" on 3 July 2017.
The workshop aimed to bring together stakeholders in the nuclear energy sector, and in particular in the field of nuclear research, to discuss the prospect of fostering an international university centred research collaboration. This will contribute to research opportunities for bright young researchers to engage in innovation and to re-invigorate nuclear research.
Attending the workshop, Ms Mmamoloko Kubayi, the Minister of Energy welcomed everybody present. They were members and researchers from the Department of Science and Technology, Department of Energy, NECSA, iThemba Labs, the South African Young Nuclear Professionals Society, the NWU, WITS University, Nelson Mandela Metropolitan University, the University of Pretoria and the University of Johannesburg. Ms Kubayi expressed her excitement about the nuclear programme and its initiatives that the NWU is running under the guidance of Dr Anthonie Cilliers, and which were discussed during the 2017 Atomexpo in Moscow, Russia.
Ms Kubayi also said that the stigma of nuclear energy in South Africa needs to be addressed, as well as the issues of localisation, ownership and sustainability. She said that nuclear energy has a very critical role to play in our society and that a nuclear programme is worth pursuing. "As government we need to find a mechanism to communicate information on nuclear to the public in a better way, and we have to be transparent and open in the process of building the nuclear sector in the country."
"We have to improve communication about nuclear energy so that we as South Africans can acknowledge the excellent work done by the nuclear sector." Ms Kubayi congratulated the NWU on the continuous work that is done with regard to postgraduate programmes in nuclear energy, in particular the master's degree in nuclear technology management, for which the NWU became the third university in the world to be recommended for endorsement by the International Atomic Energy Agency (IAEA).
"We need to get more role players such as graduates involved in the nuclear sector, because of the different career and business opportunities it has to offer and what it can contribute to a country such as South Africa," Ms Kubayi concluded.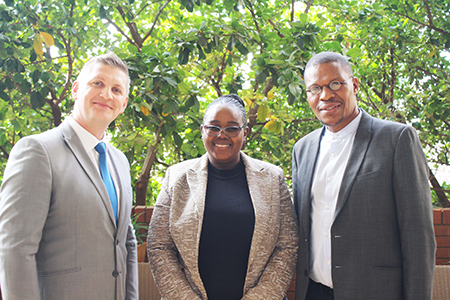 Dr Anthonie Cilliers, Minister Mmamoloko Kubayi and Prof Dan Kgwadi, vice-chancellor of the NWU.