NWU shapes tomorrow's leaders
In an effort to support matriculants of the class of 2017, the North-West University's (NWU's) campus in Mahikeng, in partnership with the Gauteng Department of Education (GDE) and the *Sci-Bono Discovery Centre, is presenting its annual winter school programme from1 to 11 July 2017.
Through this partnership, the programme is hosting 1 200 learners from schools in districts managed by the GDE and learners from in and around Mahikeng.
Besides being a marketing tool for the university, the programme also offers learners a real in-depth learning experience from some of the best professional teachers in each subject and introduces learners to university student life.
The winter school programme offers tuition in all commerce- and science-related subjects, and provides a detailed subject manual guide to assist learners in their self-study and preparation for their upcoming trial and final examinations.
"The Winter School is an excellent NWU initiative. What makes it special is the organising team's sense of ownership, commitment and dedication. This is evident in the quality of education we provide to learners and potential NWU students; a key ingredient which has seen the successful execution of this programme for more than a decade," says Mr Phenyo Mokgothu, Winter School programme coordinator.
*The Sci-Bono Discovery Centre is a world-class science centre that supports mathematics, science and technology education and offers innovative, dynamic learning experiences that contribute to building South Africa's capacity in the above-mentioned fields.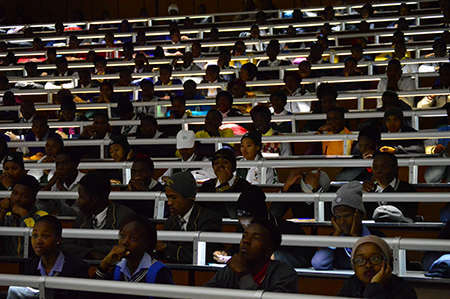 Learners attending a winter school class.