NWU researcher rewarded for service delivery that makes a difference
The dedicated and hard work of one of the North-West University's (NWU's) researchers was recently rewarded in that her name has been added to the honorary register of the Forum of University Nursing Deans in South Africa (FUNDISA).
Prof Leoné Malan of the Hypertension in Africa Research Team (HART) says it is a great honour to have received the award as it recognises her clinically focused research skills. "The biggest advantage of our research is that lifestyle illnesses such as hypertension, diabetes and depression are better understood and that we can make a difference in the communities through the service delivery programme that was launched at the Potchefstroom Campus."
She says that notwithstanding much research and improved medical technology, these lifestyle illnesses are still a great source for concern, particularly in Sub-Saharan Africa. "The prevalence of lifestyle illnesses and resistance to medications are on the increase. For this reason the first well-controlled follow-up study in Africa was designed with a focus on brain and heart health. Innovative data has confirmed that persistent tension and emotional stress can be linked to ever-increasing lifestyle illnesses."
Prof Malan and her expert team of co-workers are developing a diagnostic clinical instrument by means of bio-engineering modelling that will enable physicians to identify early signs of dysfunctional brain and heart health.
According to Prof Hester Klopper, CEO of FUNDISA, they seek to be a unified platform to pursue excellence in nursing scholarship and midwifery and innovative leadership at higher education institutions in South Africa. "Through promoting opportunities to honour researchers, we want to support, connect and grow nursing scholarship and influence practice through advocacy, mentoring and networking."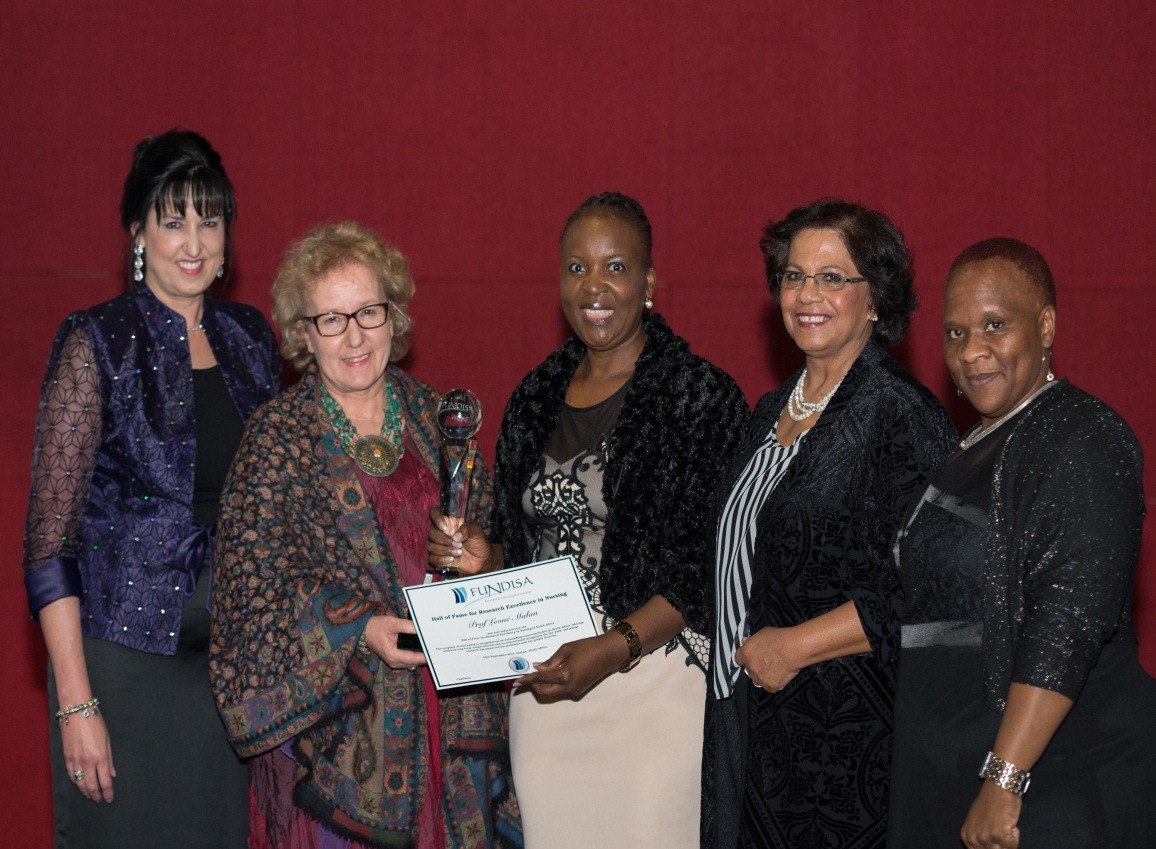 Photo:
Prof Hester C Klopper (President FUNDISA), Prof Leoné Malan (Research Excellence in Nursing), Prof Fhumulani Mavis Mulaudzi (Chairperson FUNDISA), Prof Esmeralda Ricks (Treasurer FUNDISA), Prof Nokuthula Sibiya (Vice-Chair FUNDISA)