Musa is one of Africa's youngest female PhD graduates
The North-West University (NWU) has produced one of Africa's youngest female PhD graduates. Musawenkosi "Musa" Saurombe received her PhD in Industrial Psychology at the university`s campus in Mahikeng on 25 April 2017.
At 23, she is one of the youngest female students in Africa to obtain a PhD.
Musa's thesis focused on "The management perspectives on a talent value proposition for academic staff in a South African higher education institution".
Ahead of her peers
This is not the first time she has been ahead of her peers. Musa started her BCom at the age of 16 and completed it at 19. She followed that up by completing her honours and master's degrees at the age of 20 and 21 respectively, both with distinctions.
Currently, she is a postdoctoral fellow at the NWU's campus in Mahikeng, responsible for teaching and supervising postgraduate students.
She is also a member of the Executive Committee (NWU Mahikeng Chapter) of the Golden Key International Honour Society). In that capacity, Musa is set to represent the NWU at the Golden Key's 40th anniversary function in Las Vegas in the United States.  
A passion for community service
Nurturing her passion and commitment for community service, Musa is currently involved in various community engagement initiatives. She gives talks on women empowerment, sharing her personal journey to success.
"I am grateful to God, beyond words, for the milestone I have reached. This day has been long awaited. I am more especially overwhelmed that I passed my thesis with no corrections and this just affirms to me that God never leaves any room for error when you trust in Him," she said. "It can only be Him at work in all of this."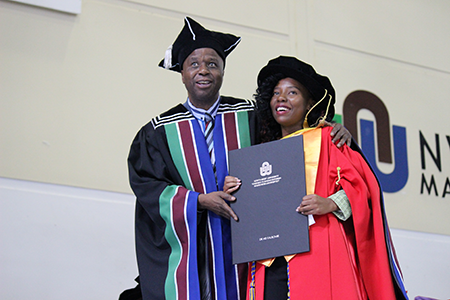 Musa Saurombe receives her PhD certificate from the Franco Nkoana, registrar of the NWU's campus in Mahikeng.