NWU PhD student receives prize for best research journal
Sidwell Sihlangu, a PhD student from the North-West University`s (NWU's) campus in Mahikeng, received prize money to the value of R20 000 for the Best Researched Journal in Scientific Innovation at the recent Provincial Youth in Agriculture Awards (YAA) on 23 June 2017 in Wolmaranstad.
Sidwell received this prize for his master's thesis on cultivating oyster mushrooms in the arid climate of Mahikeng.
Asked about his winning project, Sidwell said that previous literature stated that it would be impossible to produce mushrooms in the North West province due to the harsh climatic conditions in the area, and that this could only be done by using high-cost technology methods. "I am proud and overwhelmed that my research could prove that mushrooms can indeed be produced in this area by using the low-cost technology I invented," said Sidwell. "As postgraduate students it is important that we do research that will make an impact and address current issues affecting our communities.
"I encourage postgraduate students to produce journals that are of great value and relevance, and not only journals that will remain in the library and on the internet with no use for future reference," he added.
"I am humbled by and grateful for this award, but not until I see communal farmers in the North West province being able to produce mushrooms at a lower cost and increasing their profit margins, will I have made a contribution in agriculture," he concluded.
The award ceremony, hosted by the North West Department of Rural, Environmental and Agricultural Development (READ), was attended by the North West Premier, Hon Supra Mahumapelo and the MEC for READ, Manketsi Tlhape.
The award categories included among others Best Youth Cooperative, Best Innovative Enterprise, Best Emerging Youth Enterprise, Best Researched Journal in Scientific Innovation and Best Young Lifestyle.
"These awards are aimed to encourage and acknowledge excellence in agriculture among the youth," said Premier Mahumapelo. "I encourage our youth to fearlessly pursue that which they want to achieve." He further congratulated the department (READ) on the exceptional work they perform.
MEC Tlhape emphasised the importance of young people participating in the agricultural sector and affirmed that the department is there to ensure and implement agricultural projects to support the youth in the sector.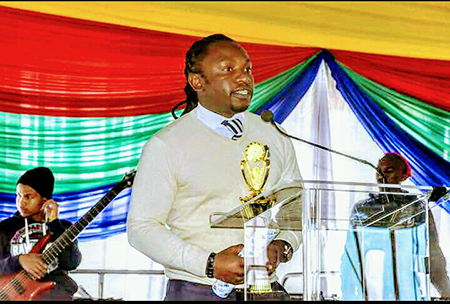 Sidwell Sihlangu.