NWU makes an impact during Eureka School's Special Sports Day
It is a photo that truly speaks volumes. Two young learners congratulating each other after competing in the annual Eureka School's Special Sports Day. Their smiles wide, their eyes bright and around their necks they proudly wear their commemorative medals.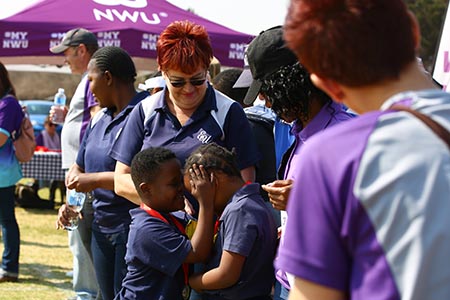 Sights like these bear witness to the North-West University's (NWU's) promise to continually endeavour to impact lives by means of an unwavering ethic of care. 
During the recent Special Sports Day on 30 August, the NWU's Faculty of Education in Vanderbijlpark joined the Vaal Triangle community in celebrating more than 400 high-support learners from special needs schools across central South Africa. 
The learners took part in various sporting activities such as walking with assistance, crawling, a wheelchair derby, goal kicking and goal shooting.
This year saw the NWU taking part in the initiative for the second time. According to Dr Elize Kung, deputy dean of the faculty tasked with community engagement, the NWU's participation forms part of its overarching Mandela Day campaign.
"We believe that every child matters and as such we proudly support the Special Sports Day initiative," explains Dr Kung and adds that putting a smile on a child's face is one of the most rewarding experiences ever. She continues to say that she would ultimately like to see this collaboration between the NWU and Eureka School being sustained over the long-term.
During the event, the faculty also paid tribute to the legacy of Prof Kobus Lombard who initiated this collaboration in 2018. He passed away shortly after the 2018 rendition of the event.
* Participating schools included: Lettie Fouché, June Nicholls, Janie Schneider, Marietjie, Al-Munirah, Eureka School, Amari, Con Amore, Eurisko, Hamlet, Lewenslig and ES Le Grange.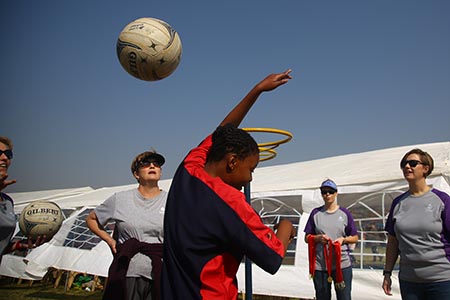 Staff members from the Faculty of Education assisted the learners in the different sporting events.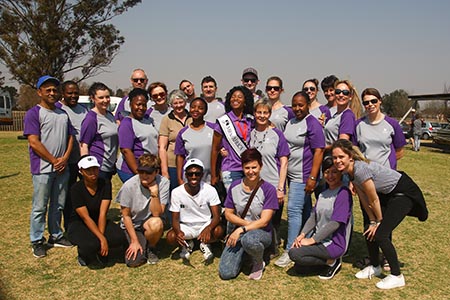 Some of the staff members who took time out to join in the activities.