NWU improves human computer interaction
The National Centre for Human Language Technologies (NCHLT) of the Department of Arts and Culture recently awarded the North-West University's (NWU's) Centre for Text Technology, CTexT®, two new projects to the value of R2,7 million.
These projects will develop optical character recognition programs and improve access to existing human language technologies and applications, through web applications, services and a mobile application. CTexT®, on the Potchefstroom Campus of the North-West University, has proven itself to be a market leader in research and development of human language technology and develops language technology products for the South African languages. 
Over the past decade the NCHLT has invested significantly in the development of the basic set of technologies required for text and speech processing. These technologies are immensely valuable for the future development of the official South African languages, as it allows people to have access to new technologies in the language of their choice. The development of technologies in languages other than English will significantly empower the broad South African public, both on a functional and a technological level by contributing to the promotion of multilingualism, language development and the Use of Official Languages Act, and as such have a positive impact on the South African community.
With the establishment of large-scale e-infrastructures, there has been an international move towards making software available as a service. By adopting a service-oriented architecture, existing resources and tools can be used to develop complex component-based systems. Several of these systems already exist in Europe and the United States. By hosting language technologies as web services, the development of end-user-facing applications could be facilitated by directly accessing these technologies via simple web queries.
Some of these services will also be implemented in an Android app for machine translation. This app will utilise the machine translation web service, providing users access to automatic translation from English sentences to five other South African languages. The app will also include an offline service that provides word translations between all the official South African languages.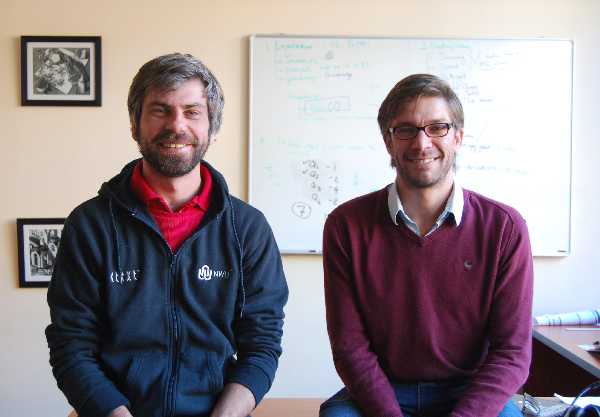 Wildrich Fourie (Manager: Apps) and Roald Eiselen (Manager: Resource Development).