NWU honours former sportsman and administrator
The Mafikeng Campus of the North-West University (NWU) honoured former sportsman and now administrator, Mr Nick George Bester, with a Chancellor`s Medal during the Autumn Graduation ceremony on 6 May 2015 at the campus' Great Hall.
The Chancellor's Medal is awarded to persons who have shown exceptional achievement of a non-academic nature, and/or exceptional contribution in any sphere of life that is compatible with the vision and mission of the university.
Having contributed extensively to the development of sports in the country both as sportsman and administrator, Nick will join a long illustrious list of campus honouraries bestowed with this prestigious honour over the years.
In his career spanning more than 20 years, Nick has won more than 500 gold medals, 300 silver medals and 50 bronze medals in road running, triathlons, canoeing, duathlons, cycling, and mountain biking as well as swimming. Due to his diversity in sport and raw talent, he can be recognised as one of the most versatile and colourful athletes in South Africa today. With all these accomplishments under his belt, Nick still managed to qualify for the Guinness World Record for a relay team of 10 runners who completed a distance of 1 000 miles in a time of 93 hours.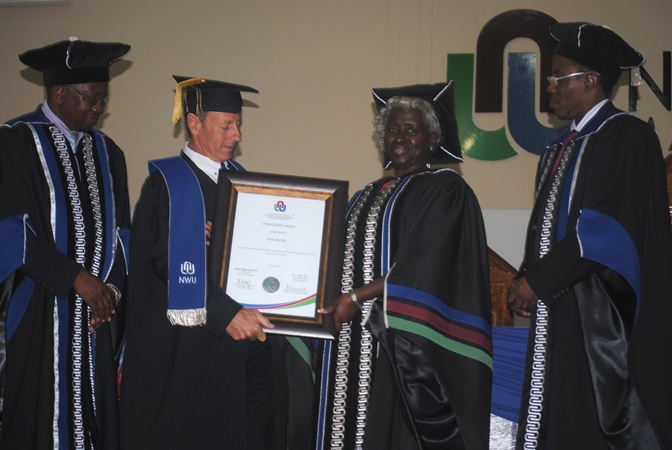 Mr Nick Bester receiving the Chancellor's medal.