NWU historian´s search for forgotten World War I soldier
Mr Emile Coetzee, junior lecturer in History at the North-West University´s (NWU´s) Mafikeng Campus, travelled to France in July 2016 to find the last resting place of Lichtenburg's only fallen World War I (WWI) soldier.
Lance-Corporal Wijnand Hamman, known at the Western front as Vic Hamman, was killed on 12 April 1917 during a battle against the German Empire at the town of Fampoux, close to the town of Arras, Picardy.
Vic Hamman has two graves, but was actually buried in a Commonwealth Grave Commission's grave in the Browne's Copse Cemetery at Fampoux. His second grave is located in the North-West town of Lichtenburg's old cemetery. The tombstone at that grave was erected by his mother.
Mr Coetzee's research about Hamman, commenced in 2012 when he recognised that the tombstone in Lichtenburg does not show that Hamman was buried in that specific grave. He traced Hamman's real resting place to France and was also able to trace Hamman's closest living relatives presently residing in Potchefstroom, Pretoria and Johannesburg.
During the centenary commemorations of the Battle of Delville Wood (July 1916), South Africa's equivalent of Australia's Gallipoli – thus South Africa's true baptism of fire during World War I – Mr Coetzee was able to place a commemorative cross at Hamman's grave on behalf of his closest living relatives. Mr Coetzee has several projects planned regarding Hamman's biography since the completion of his research.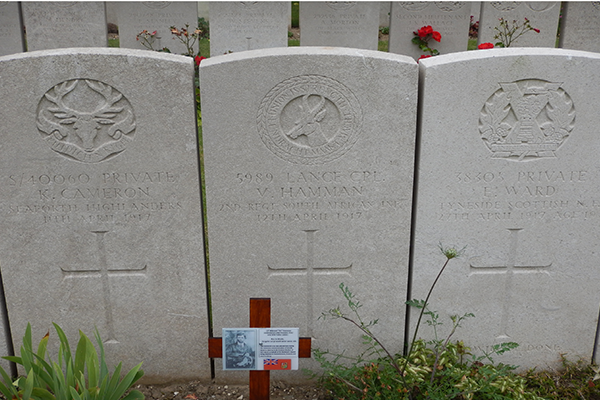 The commemorative cross that was placed at Vic Hamman's grave.