NWU Engineers flourish at international conference
The 23rd European Biomass Conference and Exhibition (EUBCE) was held in Vienna, Austria from 1 to 4 June 2015. The North-West University (NWU) was represented at this conference by the NRF Research Chair in Biofuels, which is led by Prof Sanette Marx from the School of Chemical and Minerals Engineering.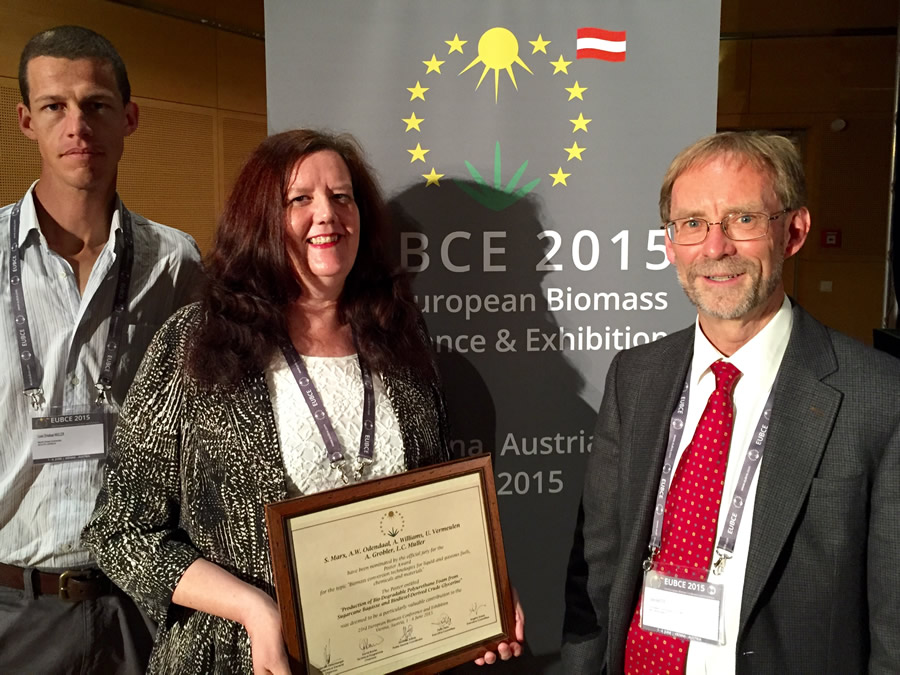 With 76 participating countries, the conference included 803 presentations by over 2 500 authors and co-authors and was attended by a total of 1 394 participants.
A record number of 10 conference proceedings were delivered by the Biofuels group.
The European Biomass Conference and Exhibition is a world-class annual event, which has been held at different venues throughout Europe since 1980. It is Europe's largest international scientific conference focused on biomass that brings together participants from research, industry, government and business.
During the Closing Session of the 23rd EUBCE on 4 June, chaired by the conference general chairman, Dr Ingwald Obernberger, Prof Marx received one of only 5 awards for the best poster presentation at this year's conference. The award was for a particularly valuable contribution in the category of Biomass Conversion Technologies for Liquid and Gaseous Fuels, Chemicals and Materials. The research entailed the production of biodegradable polyurethane foam from sugarcane bagasse and biodiesel-derived crude glycerine. The co-authors were Prof Anne Grobler, director of the DST/NWU Preclinical Drug Development Platform (PCDDP), LC Muller, Wilmar Odendaal, Anné Williams and Urban Vermeulen. The Biofuels Research group and the PCDDP have been doing joint research in this field since 2013.
During the presentation of the Conference Highlights by the Technical Programme Chairman, Dr David Baxter, special mention was also made of the oral presentation of Corneels Schabort on the use of algae grown in a municipal waste stream for the in situ production of biodiesel. This research was done in collaboration with Prof Sanette Marx, Dr Roelf Venter and Cornie van Tonder. Other authors who are part of the Biofuels Research group and also attended the conference are Dr Idan Chiyanzu and Busiswa Ndaba.
"Every year this conference gets bigger and bigger and I am very proud of my team's contributions this year and thankful to receive international recognition for the level of research we are doing. It shows that we are at the forefront of our field. We are already planning and looking forward to next year's conference in the Netherlands!" – Prof Sanette Marx