NWU Engineering gives her dreams wings – literally!
She is inspired by the people around her – by friends, family and, in her professional career, by her lecturers. Today Dr Angelique Janse van Rensburg is someone who in turn inspires others by her absolutely unquenchable passion for what she does – being an engineer!
As former student and former lecturer at the Faculty of Engineering of the North-West University (NWU), she is currently employed as senior cell-engineer (battery systems) at the German company Lilium. This company is known for its recently launched aeroplane that is going to turn the traditional way of air transport on its head.
Dr Janse van Rensburg is responsible for Lilium's battery technology to develop solutions for the company's electric aeroplane with a vertical lift-off and landing ability. According to her, a dream came true …
Lilium specialises in the development of technology that will enable the public to make use of affordable and accessible city flights. The company recently announced the first successful test of its full-scale electric five-seater aeroplane. This was the latest in a series of successful tests for the growing electric flying industry, which aims to operate "flying vehicles" above cities within the next decade.
Before she joined Lilium, Dr Janse van Rensburg was a research engineer and senior lecturer at the NWU's Faculty of Engineering. Apart from the lectures in electric circuit techniques and linear systems, she supervised postgraduate students, published her cell-related research and consulted for the industry.
"At the moment I am living my dream. Initially, I would never have thought that a girl from KwaZulu-Natal would have the opportunity to work for an international company in Europe as an engineer, but in hindsight I also realised that anything is possible when one wants something badly enough," she says to engineering students during her recent visit to her alma mater in Potchefstroom.
Dr Janse van Rensburg has been part of the Lilium team since April 2018, and the excitement is visible when she speaks about the possibility of being able to link communities to one another through their technology.
"Nothing like this has ever existed, and the world is watching our progress very closely. The proposed five-seater model will be able to fly 300 km on electric energy alone and at a speed of 300 km per hour," she explains.
"The fact that it can take off and land vertically means that it only needs a small area to pick up and drop passengers. This can reduce traditional travelling times by as much as five times, especially in cities. As the plane is powered by electric motors, the advantages are, among other things, no noise pollution and no carbon dioxide emissions into the atmosphere."
During her guest lecture to the engineering students she was secretive about the company's technology, but did mention that Lilium is currently in an advanced stage of development with their "Lilium Jet".
"What I can say to every one of you is that the world lies at your feet. Anything is possible if you work hard at your dream. Prof George van Schoor, a researcher and senior lecturer at the faculty's School for Electrical and Electronic Engineering, introduced me to this world of advanced engineering. If it were not for him, I would not have been in this job that I am in today.
"Students at the NWU are in the privileged position that they can obtain knowledge and information from world-class mentors. Make sure that you use this opportunity! The work that I currently do, and the technology that we are developing, will enable me in the near future to give something back to the country that gave me this world of opportunities. I salute each one of my lecturers who helped me to realise my dream," she concluded.
For more information about the Lilium Jet, please visit https://lilium.com/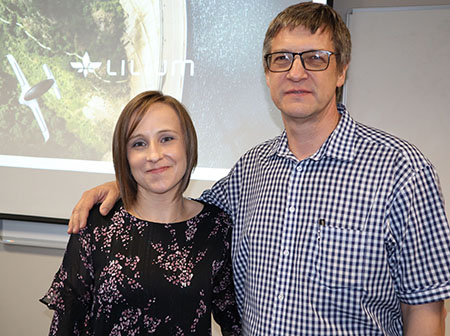 Dr Angelique Janse van Rensburg, with her former PhD supervisor, Prof George van Schoor.