NWU director for student life becomes part of Golden Key Society
Prof Lumkile Lalendle, the North-West University's (NWU's) executive director for student life, was inducted into the Golden Key Honour Society during its induction ceremony on 25 August 2017on the campus in Mahikeng.
Prof Lalendle was inducted alongside 291 new members.
"We are proud to welcome Prof Lalendle to the Golden Key Honour Society, along with the other new members," said Dorette Visser, a representative from the Golden Key South Africa's head office. "This year there has been a great growth in the number of new members inducted – Golden Key has indeed become a household brand at the NWU."
She further emphasised the importance of community engagement and participation of members in chapter activities.
"The selection criteria to become a Golden Key member is based on what a person has accomplished. Golden Key membership is a privilege and an honour, which brings with it certain responsibilities. We endeavour to maintain and promote high standards of academic achievement," added Dorette.
"I am very excited to be inducted as member of this high society," Prof Lalendle said during his acceptance speech. "I hope these new members will serve as leaders among their peers. The purpose of a university education is to enrich students. More than the accumulation of facts, it is an integration of all your experiences in a determined learning process. We know members are honest people of good character, upholding high moral and ethical standards.
"I will be there to guide each member, to ensure that the local Chapter can contribute in a very tangible way to the wellbeing of the NWU. The key holder is a leader, but the greatest leader is the greatest servant. These students have demonstrated their ability; now it's time to unlock their full potential."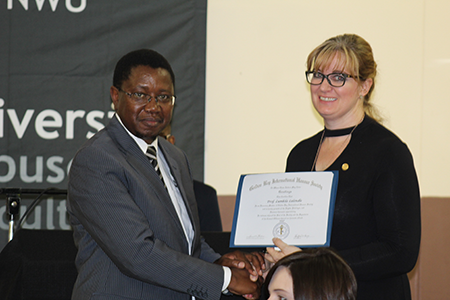 Ms Dorette Visser from the Golden Key Society's South African head office hands a Golden Key Honour Society membership certificate to Prof Lumkile Lalendle, executive director for student life at the NWU.