NWU cultivates new hope in Western Cape's Delft area
For the past few years an extraordinary researcher at the North-West University (NWU), Dr Izanette van Schalkwyk, has been working on drastically changing the lives of residents of the violence-ridden Delft area in the Western Cape through several research projects.
Dr Van Schalkwyk works in the Centre for Child, Youth and Family Studies at the NWU's research focus area Community Psychosocial Research (COMPRES). She focuses on positive psychology to achieve revival, positivity, hope and success in the Delft area – and she does this with enormous success!
It is COMPRES's vision to conduct scientific and evidence-based research within community psychosocial wellness in appropriate South African contexts to improve psychosocial wellness.
"Positive psychology involves the presence of wellness – think of a flower garden as an example," says Dr Van Schalkwyk. "Our aim is to make the flowers that are struggling to bloom so strong that they can later flourish in a sustainable manner. We learn to enjoy interaction, to learn, speak and live the language of positivity."
Delft is classified as one of the top 10 most dangerous residential areas in South Africa. It is characterised by gangs, violence, rapes, poor infrastructure, an unemployment figure of more than 67%, drug abuse and suicide.
"It is a residential area at the foot of Table Mountain that society has thrown to the wolves. It is common for law enforcers like police officers to patrol primary and high schools on a daily basis. That is how dangerous it is there!" she explains.
Dr Van Schalkwyk says they have already launched a number of projects with different focus areas in 2011 to first win the trust of the community, the schools and the leaders in the area.
"Our hard work and dedication were received well and we are now fully involved in various projects under the flag of the Blue Bus Ministries, a non-profit organisation. In this way we create a platform for school learners and their parents that enable them to rise above their circumstances."
One of the projects, the Princess Club, is aimed at empowering pregnant high school learners with knowledge on the hazards of alcohol and drug abuse during pregnancy. She mentions that she came across a school in the area with no fewer than 46 pregnant learners.
"Most of these girls fall into a pit of depression and are weighed down by a millstone of worthlessness around their necks. We support these young mothers to face life, to get up and pursue their goals with hard work. Quite a number of these girls returned to school after they had given birth, and some of them are studying at tertiary education institutions today," recounts Dr Van Schalkwyk proudly.
Another project, the Kings Club, is aimed at male learners and focuses on teaching positive male and fatherhood qualities. These skills are communicated via art and sculpture.
Since 2013 Dr Van Schalkwyk and her team of co-workers have also established a reading club for primary school learners. They offer a safe environment in the Delft area where learners can do their homework after school and improve their reading ability.
"The bait is that we offer an environment where children can interact with each other, where we can stimulate their imagination and just offer them a nice time – away from the desperate circumstances where most of these children live in fear."
Dr Van Schalkwyk says the project is so successful that several parents have approached her with their needs. Three clubs for mothers, empowering parents with various skills through mentorship, are exploding with interest.
She attributes the success of the various projects to the hard work of the group of 50 project leaders who drive revival, hope and progress with an enormous passion.
"It is important to break the repetitive cycle of poverty, violence and destruction in Delft. Many individuals, whether school learners or parents, have realised through these projects that they do have it in them to change their own lives. They use their terrible circumstances as motivation for a better life," says Dr Van Schalkwyk.
Planning for constructing a building complex where all these projects can be taken to the next level is already well underway. Dr Van Schalkwyk's organisation has already acquired a large piece of land in the Delft area and building on the Blue Bus Ministries Centre will start soon.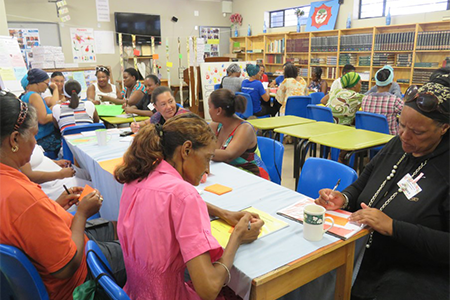 The clubs for mothers are so popular that they are bursting at the seams. Here parents are empowered through mentorships and learning various skills