NWU change companies' outlook
Political instability and poor economic conditions, like those South Africa is currently experiencing, are a method of cross-pollination that gives rise to risk. Many businesses and investors in South Africa see nothing but this, so that they often do only short-term planning and thus cut the proverbial wings of their business.
This is according to Dr Jan Venter, a political economist at the Potchefstroom Campus of the North-West University (NWU).  Venter has utilised the expertise of the School of Social and Government Studies and a research entity called TRADE (Trade and Development) at the NWU to develop a model that will help undertakings to spread their wings wider, despite negative factors trying to prevent this.
"We have always assumed that economic and political philosophies essentially argue about the same core principles. This is not necessarily the case, but it is obvious that the influence of politics and the economy on each other determines the country's future and survival." Venter and his team of researchers now offer a service to undertakings to determine the possible influence of the economy and politics on the business concerned.
Our researchers spend a lot of time in the business to make specific observations, do needs assessments and research. We then develop a unique source of business information for this undertaking and offer assistance to allow the relevant business to function as optimally as possible going forward.
"The political and economic uncertainty currently prevailing in South Africa is so great that many individuals and companies think only in the short term. We help to eliminate this to identify opportunities to exploit and develop and to utilise them further in Africa and also in the rest of the world," Venter said. We already have ties relating to this with a university in the Czech Republic  and also in Brazil. At this stage we are also working with one of the most prominent agricultural advisory businesses.
He said that it also holds many other benefits:
It offers networking opportunities between the private sector and the North-West University.
Master's degree and doctoral students get valuable practical exposure.
The funds generated in this way are channelled back to offer promising students bursaries.
This enables the NWU to leave its mark of expertise on the commercial market, locally and overseas.
For more details in this regard, contact Dr Jan Venter at jan.venter@nwu.ac.za or on 018 299 1631.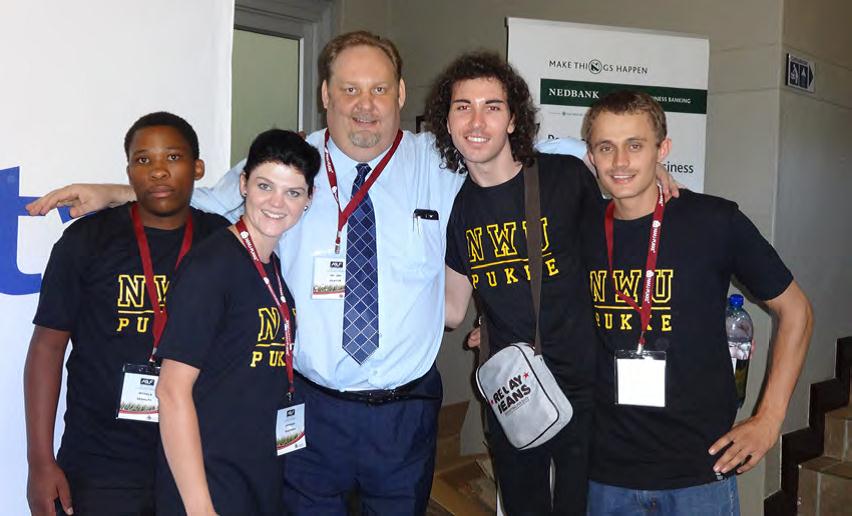 These students are part of the research team. They are Seshupo Mosala, Chinique Mortimer, Gerbrandt van Heerden and Donnie Kotzé. Dr Jan Venter is with them.