NWU brings together experts from 42 countries
Representatives from 42 countries recently attended a regional seminar of the World Health Organisation on quality assurance and control of medicines at the North-West University.
The WHO's Collaborating Centre for Quality Assurance of Medicines (CENQAM®) presented the seminar in collaboration with the WHO's programme for the prequalification of medicines.
According to the director of the Collaborating Centre, Dr Marius Brits, the aim of this regional seminar is to build capacity and establish a network between laboratories that apply quality control on medicines.
Some of the topics that were discussed were the control of changes in quality control laboratories, the approval, verification, calibration and maintenance of equipment, reference standards and reagents, investigation of out of specification results, data integrity and international collaboration  programmes.
Brits says the presenters were from, amongst others, Switzerland, Canada, USA, United Kingdom and South Africa.
The delegation also visited the Research Institute for Industrial Pharmacy, incorporating CENQAM®. Both the mentioned institutes are prequalification laboratories of the North-West University.
Brits said the type of seminars is very popular among visitors, since it is an exceptional specialist field from which everyone can benefit and where there is a hunger for knowledge.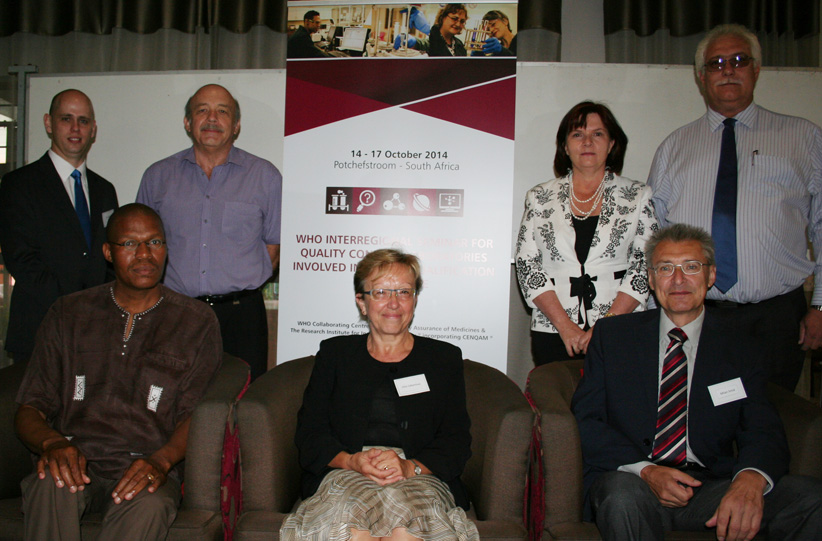 PHOTO: Some of the guests and speakers at the seminar were (front) Prof Dan Kgwadi (Vice-Chancellor of the NWU), Dr Jitka Sabartova (WHO Switzerland) and Dr Milan Smid (WHO Switzerland). At the back are Dr Marius Brits (Director of the WHO's Collaborating Centre for Quality Assurance of Medicines, NWU), Prof Banie Boneschans (Head of the Centre for Pharmaceutical and Biomedical Services, NWU), Dr Erna Swanepoel (Head of the Research Institute for Industrial Pharmacy, including CENQAM, NWU) and Prof Awie Kotze (Dean: Faculty of Health Sciences)