NWU brings Russian coal technology to SA
Water is a scarce commodity in drought-stricken South Africa. One area where water can be saved is in the processing of coal. Large amounts of water are traditionally used in coal washing.
Keeping this in mind, two engineers from the North-West University's (NWU's) School of Chemical and Minerals Engineering visited Siberia earlier this year with the aim of bringing their dry coal beneficiation technology to South Africa.
"The BRICS-sponsored trip to Russia was the first step in our dream to expose postgraduate students and staff to coal beneficiation technologies developed elsewhere in the world," says Prof Quentin Campbell, director of the school.
Prof Campbell explains that the Russians use the Sep-Air processing unit. "This processing method shows significant potential for the inevitable future of dry coal-processing practices in South Africa."
He says the unit can process large quantities of ore and can easily be adapted to handle large particle sizes. It has simplicity in its design, operation and maintenance, which makes it an appealing alternative.
Simple solutions to complex problems
According to PhD student Nikki Hughes, the main aim of the visit was to become acquainted with the Sep-Air technology. "In order for us to simulate and model it for South Africa's needs we first needed to learn how to operate it." Nikki says they did this through various experiments and by observing closely how the unit is used.
"I have learnt from our visit that one can indeed find very simple solutions to complex problems if you are prepared to think outside the box. Exposure to other trains of thought is key to evaluating whether we are still in a box of our own," says Prof Campbell.
The visit paved the way for collaboration between the NWU and the Gormash Export LLC company, which owns the Sep-Air system, by signing a memorandum of understanding. This will enable further research opportunities for researchers and students.
The most important outcome was that the agreement included the opportunity to obtain a working computer-based model of a Sep-Air unit.
 
"This will allow us to further develop it specifically for South Africa and in the process not only conserve water but also have access to a new way of making coal even more economically attractive," says Nikki.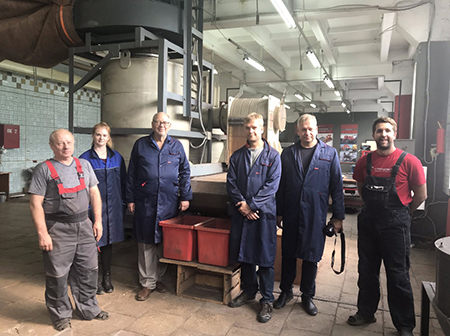 Nikki Hughes (second from left), a chemical engineering doctoral student, and Prof Quentin Campbell (third from left), director of the School of Chemical and Minerals Engineering, visited Gormash-Export LLC in Novosibirsk, Russia to look at their Sep-Air dry coal beneficiation technology. Their host and owner of the company, Andrey Stepanenko, is second from the right. With them are workers of Gormash-Export LLC.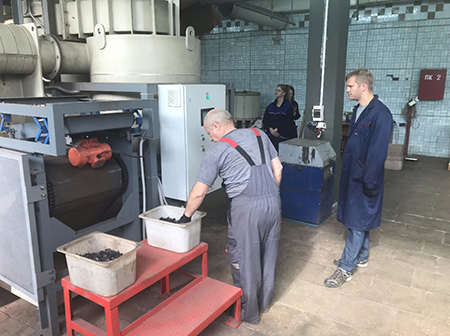 The Sep-Air in action. One of the responsibilities of PhD student Nikki Hughes was to familiarise herself with the operation of the machine. This will enable her to experiment on a similar set-up to be built in South Africa.