NWU applauds service workers on Worker's Day
The vice-chancellor of the North-West University (NWU), Prof Dan Kgwadi, and members of the Mafikeng and Vanderbijlpark Campus Management Committees (CMCs) recently celebrated Worker's Day with a special luncheon dedicated to the university's service staff.
Staff members were officially welcomed by Prof Marilyn Setlalentoa, deputy vice-chancellor for campus operations in Mahikeng and Prof Linda du Plessis, deputy vice-chancellor for campus operations in Vanderbijlpark. 

In their welcoming address both Prof Setlalentoa and Prof Du Plessis thanked staff members for being the first point of contact for visitors to the campuses. They reiterated that from friendly service at the main entrance, freshly prepared meals at the cafeteria, to the neatly kept gardens and facilities, service workers play an important role in portraying the very heart of the university. 

In addition, the vice-chancellor emphasised the importance of acknowledging service staff for the outstanding work they do and for contributing towards the vesting of a healthy institutional culture. In his address, Prof Kgwadi referred to many challenges faced by other institutions within the higher education sector such as strike action, continued damage to property and the decay of existing infrastructure. 

He continued to say that the staff and students of an institution determines its culture and as such, the NWU is very proud of its staff and student component for their dedication to excellence and sustainability. 

"As the senior officer accountable for this university, I am very proud to associate myself with you and your sterling work ethic," said Prof Kgwadi.

During the course of the lunch, staff also had the opportunity to interact with management members on various issues. One of the guests, Hendrick Mosweu, a security official, expressed his gratitude towards the university for fostering an environment in which all staff members can thrive, regardless of their position. 

The rest of the afternoon saw staff members socialising among each other and with members of the campus management.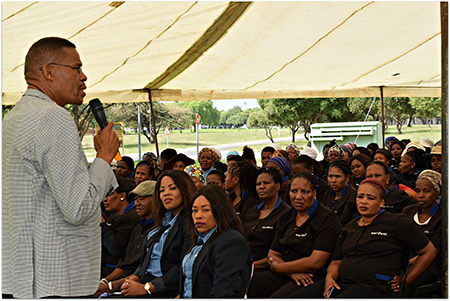 Prof Dan Kgwadi addressing members of the Mafikeng Campus's service staff fraternity.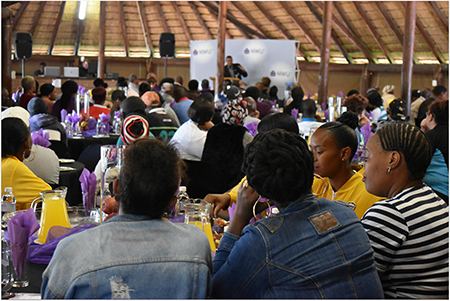 More than 200 service staff members were in attendance at the Worker's Day luncheon in Vanderbijlpark.