NWU and UNHCR host international symposium on statelessness
The Faculty of Law on the North-West University's (NWU's) campus in Mahikeng, in conjunction with the United Nations High Commissioner for Refugees (UNHCR) is hosting an international symposium on The International Human Right to a Nationality, the Prevention of Statelessness and the Protection of Stateless Individuals in the 21st Century from 31 October until 2 November 2017.
The symposium's programme includes papers on issues such as the individual right to a nationality, jurisprudential perspectives on reservations to statelessness conventions, the African human rights system and protection of the rights of stateless persons, reconceiving nationality as a means to an end, protecting stateless African emigrants, combating childhood statelessness, West African perspectives on statelessness and those from the Great Lakes Region.
According to Prof Melvin Mbao from the faculty the timing of this symposium could not have been more apt.
"Right now thousands and thousands, if not millions of people are on the move in search of asylum and refuge in other countries," he says. "Most of these are fleeing from armed conflicts and other forms of civil strife. We witness people fleeing from Afghanistan, Iraq, Iran and Syria trying to reach Europe."
"On our own African continent, millions of people are daily leaving the Sahel and the Horn of Africa on a perilous journey to Europe. Many of them have been perishing in the Mediterranean Sea in their desperation to escape civil wars, failing states and poor governance in their own countries. In our sub-region – the Great Lakes region and the DRC in particular – is a major refugee-producing region."
"I hope that, as we deliberate during this symposium, that it will address that gap with the requisite resolution."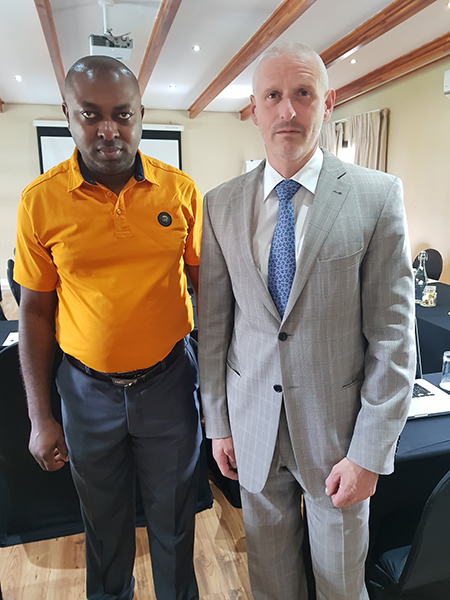 Initiator and chairperson of the local organising committee, Prof Avitus Agbor, and Mr Matthias Reuss, a senior regional protection officer with UNHCR for Southern Africa.