NWU and Rheinmetall Denel Munition – pioneers for explosives training in Africa
Rheinmetall Denel Munition and the North-West University have signed a cooperation agreement for training in explosives for which there is a great demand in South Africa. It is planned to offer short courses in Explosives Engineering that would be recognised locally and internationally.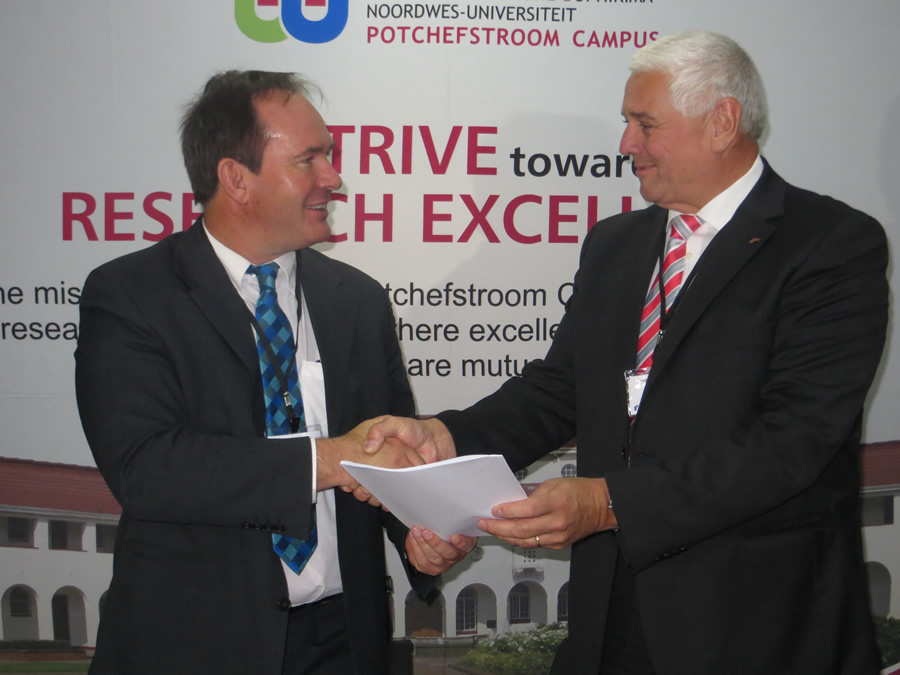 Professor Harry Wichers of the NWU's Faculty of Engineering says 24 short courses have recently been approved by both parties and the first group of students are already aligned to attend selected courses. He says that bigger plans to present post-graduate studies in Explosives Science and Engineering  are currently in the final stages of negotiation and module development should commence early next year.
Research has shown that most local explosives experts are near retirement age, which is already causing a critical skills shortage. This loss of expertise, and a growing demand for qualified and competent explosives experts worldwide, increases the demand for training. The head of Rheinmetall Denel Munition's Explosives Training Centre, Mr Willie Verster, says that the different curricula that are followed teach students the characteristics, behaviour and application of explosives at various levels of complexity. This enables them to acquire skills that add value to ordnance and commercial explosives industries.
Annually, thousands of tons of explosives are used in South Africa, of which the mining sector is the largest consumer. During last year's BME Drilling and Blasting Conference in Pretoria, it was said that the use of explosives is a critically important part of the success of mining activities. There is a serious concern about the decline in explosives expertise, which is costing the mining industry millions of rands in lost production.
Rheinmetall Denel Munition has been presenting non-accredited short courses in ordnance training internationally since 1998, which has emphasized the need for a formal qualification in Explosives Science and Engineering.
The expertise and facilities of both Rheinmetall Denel Munition and the NWU, in cooperation with the rest of the explosives industry, create a unique opportunity for an accredited degree in Explosives Science and Engineering in the near future. The NWU is especially excited over potential research areas such as heat transfer, control optimisation, materials and interaction with one another, etc.
Rheinmetall Denel Munition is regarded as an international leader in the manufacturing of explosives, ammunition and related processes. Rheinmetall Denel Munition's Boskop plant and testing grounds which are approximately 20km outside Potchefstroom, facilitates the practical training of students.
It is envisaged that this cooperation agreement between Rheinmetall Denel Munition and the NWU is the beginning of a new era of expertise which will create a benchmark worldwide.
Photo: Prof LJ Grobler, dean of the Faculty of Engineering, signed the cooperation agreement with Norbert Schulze, CEO of Rheinmetall Denel Munition.