NWU alumus' business idea mushrooms to the top in business innovation competition
On 6 May 2020 North-West University (NWU) alumnus Sydwell Sihlangu walked away as one of the winners of the Regional Connect Health Open Innovation Challenge with his business idea about establishing a mushroom hub.  
"Informed by the current Covid-19 pandemic, the focus of this competition was to address challenges affecting the health and wellbeing of communities in Southern Africa through innovation," says Sidwell.
The competition involved the creation and usage of a digital open innovation platform that actively sources solutions from innovative individuals, start-ups and companies to solve current and pressing problems in the health sector. Due to Covid-19 pandemic, the competition pitches for health took place virtually.
"My business concept was about promoting the production and consumption of mushrooms that can – due to its nutritional value -  boost the immune systems of those affected by the virus," says Sidwell.
His prize entails a fully virtual and flexible three-month investment readiness incubation programme worth more than R50 000. According to Sidwell Anza Holdings (a venture capital firm) has also shown interest in investing in his business idea.
"South Africa produces 70% of Africa's mushrooms. Of these mushrooms, 95% are mainly turned out by 17 producers in the Gauteng and Cape regions, with only 5%  produced by smallholder farmers.
"This made me realise that establishing an effective mushroom hub will not only empowerSouth African smallholder farmers, but will greatly contribute to the elimination of world hunger," adds Sydwell.
More about the competition
The Research Institute for Innovation and Sustainability (RIIS), along with their Batswana partners – the Botswana Institute for Technology, Research and Innovation (BITRI) and Brynston Creations – launched the second Southern Africa Innovation Support Programme. This initiative is aimed at addressing challenges in the Health, Education, Agriculture and Tourism (HEAT) sectors through open innovation in the SADC region.
The successful challenge participants are given support, including a three-month incubation at BITRI which includes pitching training, business validation assistance, and the opportunity to potentially receive start-up funding from relevant venture capitalists.
Through the four open innovation opportunity programs, each one of the four addressing an identified need in the respective sector, the public is invited to submit a potential solution to address the need. The selected finalists are then provided with an access point to enter a competitive market, and potentially connect withinterested investors. Individuals, teams or corporations that are selected then undergo a three-month incubation program at the BITRI, and receive valuable innovation training by RIIS, in order to create their own sustainable business.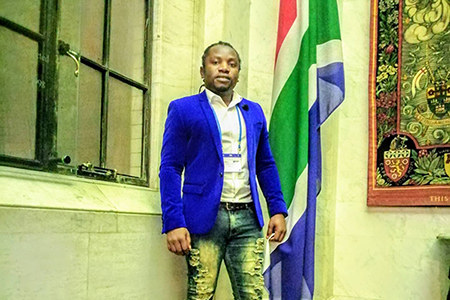 Sydwell Sihlangu.