NWU academic first in SA to pass Nuclear Security Management Programme
Mr Tebogo Kupi, radiation officer at the Centre for Applied Radiation Science and Technology (CARST) on the Mafikeng Campus of the North-West University (NWU), has been awarded a certificate by the World Institute Nuclear Security (WINS) Academy.
He is the first South African to pass the Nuclear Security Management Programme.
WINS is a first-of-its-kind organisation designed to provide a forum to share best practices in strengthening the physical protection and security of nuclear and radioactive materials and facilities worldwide. Launched in September 2008 during the 52nd IAEA General Conference, WINS is bringing together nuclear security experts, the nuclear industry, governments, academia and international organisations to focus on rapid and sustainable improvement of security at nuclear facilities around the world. 
WINS is located in Vienna, Austria, and is an international non-governmental organisation that receives its funding support from governments, foundations and corporations involved in nuclear security.
Mr Kupi holds a master's degree in Applied Radiation Science and Technology from the NWU and also lectures in Radiation and Environment Security. Before joining the university he was an environmental physicist at iThemba Laboratory for Base Accelerator Science in Cape Town.
"This provided me with unique perspectives on safety and security development best practices, such as integrating safety, security and policy topics into Physics, Applied Radiation Science and nuclear engineering curricula and the use of case studies to highlight the importance of nuclear security culture for technical experts," says Mr Kupi.
The Nuclear Security Training Programme also forms part of the programmes offered by CARST. The NWU is a member of International Nuclear Security Education Network (INSEN) which aims to enhance global nuclear security by developing, sharing and promoting excellence in nuclear security education.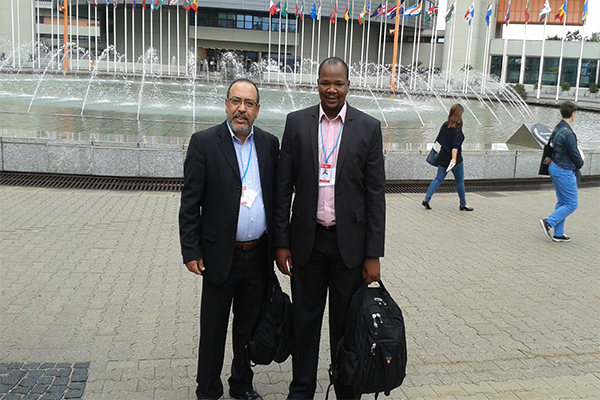 Tebogo Kupi (right) who was awarded a certificate by the
World Institute Nuclear Security (WINS) academy.