NWU's solar car fuels inspiration among youth
Two birds with one stone: celebrating the North-West University's (NWU's) solar car's success, and investing in our leaders of tomorrow.
Learners from the surrounding Potchefstroom area recently joined students and staff from the Faculty of Engineering in celebrating the performance of the Phoenix after the Sasol Solar Challenge.
Upon returning from the gruelling race across South Africa, the solar car team was welcomed by more than 40 learners from the Ikageng, Promosa and BA Seobi Secondary Schools.
The Phoenix took part in the 2018 Sasol Solar Challenge which recently came to an end. The NWU was the second South African team to reach the chequered flag. They managed to cross the finish line in fifth place overall.
As part of the festivities, learners spent the day at the Faculty of Engineering to learn more about solar technology.
Prof Liezl van Dyk, dean of the faculty, welcomed the learners, whereafter they were informed more about the different study fields in engineering.
CP Kloppers, a lecturer in mechanical engineering, told them about the design, science and technology that went into the six-month manufacturing process of the NWU's solar car.
Lecturers helped the learners to build their own miniature solar car. They were also introduced to computer engineering by playing a custom-made computer game about a solar car's race against time and competitors.
During a special lunch, the excitement of the arrival of the Phoenix started to build up. After much anticipation, they finally saw the car and met the team.
This space-like vehicle that runs without any fossil fuels really grabbed their attention. Interesting information, statistics and performance capabilities were shared with the crowd, whereafter a demonstration on how the car runs, followed.
Prof Fika Janse van Rensburg, deputy vice-chancellor for the campus operations in Potchefstroom, encouraged them to further their studies and explained the importance of chasing their dreams.
"Without engineers, the world would come to a standstill. If you have the slightest interest in what you have seen today, I encourage you to become the full 100% of what you are capable of," he said.
"Learn hard, focus on your dreams and do your utmost best to qualify for tertiary education. You will never regret hard work that pays off."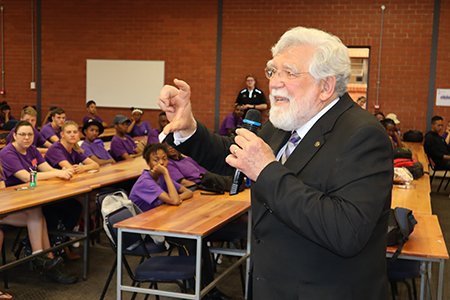 Prof Fika Janse van Rensburg, deputy vice-chancellor for the campus operations in Potchefstroom, explains the importance of tertiary education to learners.