NWU's nuclear programme gets international green light
The North-West University (NWU) is one of only three universities in the world whose master's degree in nuclear engineering has been recommended for International Nuclear Management Academy (INMA) endorsement.
The INMA is expected to recommend that the International Atomic Energy Agency (IAEA) recognise its endorsement of the NWU's master's degree in nuclear engineering with specialisation in nuclear technology management.
Joe-Nimique Cilliers, lecturer, developer and the person responsible for the implementation of the NWU's INMA programme at the School of Mechanical and Nuclear Engineering, says the peer review that was done as part of the IAEA's INMA initiative, was conducted in June at the NWU in Potchefstroom and at Wits in Johannesburg.
According to the IAEA, the involvement of academia is a key component in managing knowledge for the successful development of a competent workforce for national nuclear energy programmes.
The INMA is an IAEA-facilitated collaboration framework with leading nuclear engineering and science universities. Their aim is to establish high-quality master's programmes for current and future managers in the nuclear sector.
INMA supports new projects
"The INMA framework is essential for us in establishing a new master's programme in nuclear engineering with specialisation in nuclear technology management to in turn support new international projects," says Prof LJ Grobler from the Faculty of Engineering.
Both the NWU and Wits have followed the INMA's core concept of collaboration among universities and stakeholders, mainly within the nuclear sector, to develop a nuclear technology management programme. During the peer review, the IAEA team examined whether the design of their master's programmes met the INMA NTM programme competency areas. This assessment is the final step towards INMA endorsement.
The peer review was based on INMA requirements, as specified in an upcoming IAEA Nuclear Energy Series publication, International Nuclear Energy Management Academy: Master's Programmes in Nuclear Technology Management. Developed over the past four years, it has received input from several participating university professors and industry stakeholders.
The NWU was the first university to start a nuclear engineering programme in Africa. Established in 2005, it has been the major contributor to the South African nuclear industry's workforce development.
Joe-Nimique says this endorsement means that the quality of the NWU's nuclear engineering education is of international standard and that the university should lead the way in developing such competencies within the rest of Africa.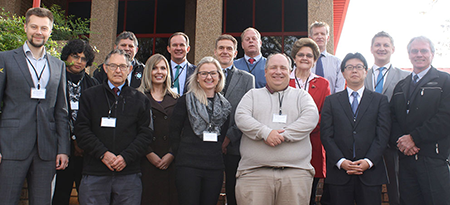 Visitors to the NWU during the peer review. In front are Dr Yury Volkov (Russia), Prof Jat du Toit (NWU), Sue-Mari van Rooyen (NWU), Joe-Nimique Cilliers (NWU), Prof Richard Kurwitz (Texas), Hiroya Hirose (IAEA scientific secretary) and Prof Harry Wichers (NWU). At the back are Dr Vishana Naicker (NWU), Prof Dawid Serfontein (NWU), Prof LJ Grobler (NWU), Prof Guillem Pere Cortes Rossell (Catalonia), Prof James Larkin (Wits), Prof Susan Visser (NWU), Prof John Roberts (Manchester) and Dr Antonie Cilliers (NWU).