New Student Campus Council for NWU's campus in Mahikeng
The North-West University's (NWU's) campus in Mahikeng inaugurated its brand new Student Campus Council (SCC) at the Great Hall on 8 September 2017.
Various members from the campus community attended the ceremony, including Mr Rick Van Rooyen, the outgoing acting director for student life, and Advocate Molemane, the campus student judicial officer, who presided over the taking oath of office of the new council members.
During the ceremony Mr Jimmy Mulaudzi, the newly appointed director for student life, was also introduced to students.
Delivering his inaugural speech, the newly elected chairperson of the SCC, Bongani Mahlangu, spoke about recognising student leadership roles.
"We gather here at a period when the university is also in a transition of its own towards an unitary institution. Central to this transition will be the alignment of curriculum for programmes offered across all three campuses, equity in resource distribution, consistency in operations and quality service across the three sites of delivery," he added.
"Election period is over. Now is the time to lead a united student front committed to enhancing student life on campus for all."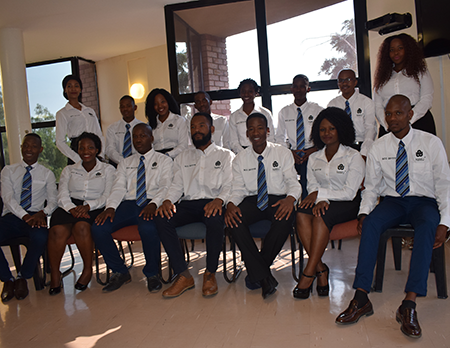 NWU Mafikeng SCC members for 2017/18
Seated from left to right: Leo Maphosa, academic officer; Innocentia Ntesang Phaari, treasurer; Sibusiso Digoro, deputy chairperson; Bongani Khensani Mahlangu, chairperson; Thabang Belang Banda, secretary; Natasha Chikomo, international affairs officer; and Karabo Machwisa, residence officer.
In the back row from left to right: Mmabatho Queen Letlakana, arts and culture officer; Lucky Moiloa, community and stakeholder relations officer; Matumelo Motaung, current affairs officer; Kgaugelo Hlohlongwane, public relations and projects officer, Helena Shindondola, sports officer; Katlego Lekaba, societies officer; Gaopalelwe Mathiba, legal affairs officer; and Kopano Gomolemo Monare, fundraising officer.