New astronomical observatory brings galaxies to your doorstep
The Department of Physics on the Mafikeng Campus of the North-West University (NWU) recently unveiled a state of the art telescope that will bring galaxies to your doorstep. 
The telescope is called the Mahikeng Astronomical Observatory (MAO) and is located on the campus.  
According to ProfThebe Medupe, an astrophysics Professor who will be in charge of the observatory, the telescope will benefit students in their research and will be open to local schools as well as the general public. With the high resolution of the Mahikeng telescope, detailed patterns on the surface of Jupiter can be observed as well as the rings of Saturn. The telescope has a diameter of 40 cm which is large enough to study bright stars that pulsate due to waves inside them. The telescope is also equipped with a CCD camera (charge-coupled device) which enables it to be used remotely, making it accessible to learners and students across South Africa.
The campus' Science Centre will be working closely with the astronomy department to conduct outreach programs to generate interest in young aspiring scientists and learners to pursue careers in the fields of Science and Technology. "Through this initiative the NWU aims to maintain and increase our research activity and sustain our relevance to the various communities we serve," says Prof Medupe.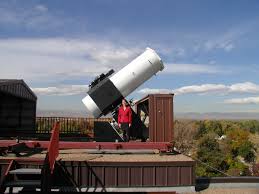 The Mahikeng Astronomical Observatory