Mr and Miss NWU 2018 shine bright
A star-studded night oozing sheer glamour, the recent Mr and Miss NWU pageant set the standard on the North-West University's (NWU's) campus in Mahikeng.
The pageant was themed "Purple Reign", symbolising the crowning of a queen and king under the NWU's new unitary brand.
The razzle-dazzle event was the brain child of the Student Campus Council, and in collaboration with Dare Entertainment – managed by LLM student Karabo Seleka – gave students a flair of fashion, fun and good music. Not only was the event a show of beauty, fashion and music, but it also provided a platform for creating opportunities and enabling participants to serve as NWU ambassadors and change agents.
Known for her charming personality, the host Boitumelo Choabi kept the audience well entertained. The night also included performances by Larry Jackson, Princcey K, Bukosi, ReyaRay and the NWU's Got Talent winner, Faith.
Students from various faculties took part in the event which included a three-tier costume change from swim wear, casual and evening wear styled by Mablomo.
The event ultimately saw Thato Maphangela (a third-year LLB Law student) and Israel Idemudia (a first-year LLB Law student) reign as Mr and Miss NWU 2018.
The runners up are:
First princess – Onalenna Leepile
Second princess – Taahira Zungu
First  prince –Thabo Mokobo
Second prince – Masego Ratshefola  
"The planning of the whole pageant was demanding, both emotionally and in terms of time," says Karabo Seleka, the event organiser. "I'm glad we achieved this vision, and above all, I'm proud of the winners and all the contestants. They are all golden."
After wrapping up the proceedings and impressing judges and the audience alike, the newly crowned Mr and Miss NWU, Thato Maphangela and Israel Idemudia, were bursting with excitement. "This is a dream come true, a great stepping stone to greater and better prospects," said the pair.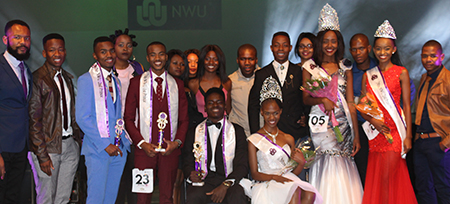 Triumphant winners – meet the NWU's campus in Mahikeng's new Mr and Miss NWU, Israel Idemudia and Thato Maphangela (middle). By Thato's side is Onalenna Leepile, first princess, and Taahira Zungu, second princess. On Israel's left is Thabo Mokobo, first prince, and Masego Ratshefola, second prince. With them are members of the Student Campus Council.