MBA opening at the NWU's PBS
Eskom poses the greatest danger to South Africa's economy. This was the statement of Mr Jannie Durand, chief executive officer of Remco, during the MBA opening at the North-West University's (NWU's) Potchefstroom Business School (PBS) this week.
"If the current situation continues, Eskom will have an enormous negative impact on the country's gross domestic product," Durand, who was a guest speaker, said after the opening.
"It is still possible to reverse the damage, provided that the correct decisions are made and the correct things are done rapidly," he added.
He also emphasised why an MBA is of importance in the current South African context, "An MBA gives you an extensive overview of and empowers you with a mind for the business world. It gives you alternative perspectives and teaches you a holistic approach. Our country needs more people that know how to manage and therefore an MBA is very important."
With regard to small enterprises, he feels that the government can do more (or rather less) in order to stimulate development in this sector.
"The government can do a lot more to increase entrepreneurship. One example is to decrease the regulation of smaller businesses and statutory requirements. I also think that more capital should be made available for them."
Durand also agrees that investors should focus more on the agriculture sector, "There is so much potential – all the opportunities are here. Land is relatively inexpensive in South Africa – we are not Asia or Europe."
More than 300 people (including students, staff members and the vice-chancellor of the North-West University, Prof Dan Kgwadi) attended the opening on Monday 26 January.
Prof Tommy du Plessis, director of the PBS, quickly clarified any doubts concerning the value of the degree, "An MBA is still the most sought after qualification in the world."
In 2014 the PBS's MBA programme received international approval from the Association of MBAs (AMBA). Only five business schools in South Africa have managed to receive this accreditation and only 200 worldwide.
"This year we have a particular large intake of first-phase MBA students – more than usual. The AMBA accreditation is most probably the reason for this," Wilma Pretorius from the PBS office said.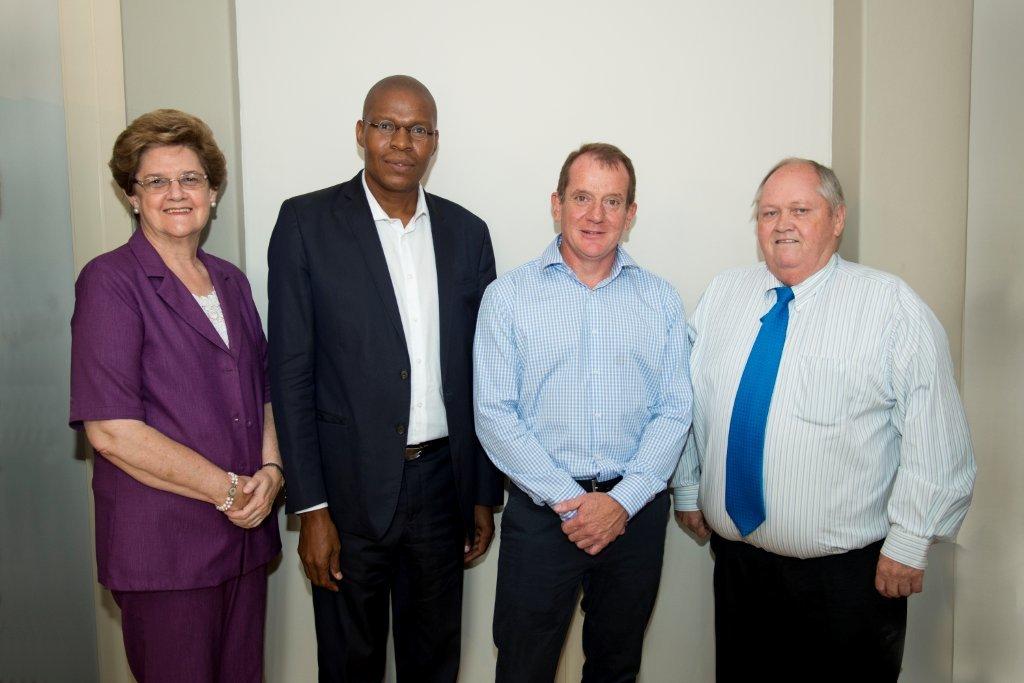 Caption: From the left is Prof Susan Visser (Dean of the Faculty of Economic and Management Sciences), Prof Dan Kgwadi (Vice-chancellor of the North-West University), Mr Jannie Durand (Chief executive officer of Remgro) and Prof Tommy du Plessis (Director of the NWU Potchefstroom Business School).