Maponya law firm sponsors NWU students
The Faculty of Law at the North-West University's (NWU's) campus in Mahikeng hosted a luncheon on 8 May 2018 to announce its new partnership with local law firm, Maponya Attorneys Inc.
The partnership will see five first-year students receive annual funding of R50 000 per student for their complete study period, subject to academic performance.
The five lucky first-year students to have their studies funded by the law firm are OD Mabotho, K Ditsebe, TK Matietso, R Mukhawa, and N Molefe. In addition to this funding, Mr Phathudi Maponya, the managing director of Maponya Attorneys Inc., also announced that a further R100 000 will be set aside for an additional two students to be funded.
Dr Neo Morei, the deputy dean for quality assurance and stakeholder relations in the Faculty of Law, thanked Maponya Attorneys for choosing to partner with the NWU, especially the campus in Mahikeng.
"We never had the privilege to partner with a practicing law firm before. We are indeed very grateful that you considered sponsoring our students," she said.
"Since we are working with the communities in North West, we decided as a law firm to plough back to uplift these communities through this bursary. I hope this partnership continues for years to come," said Mr Maponya.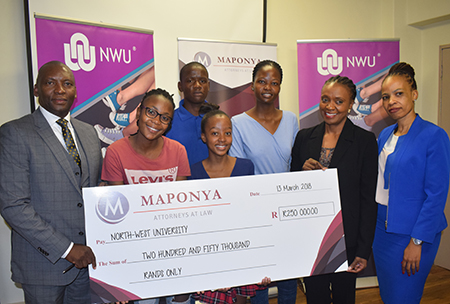 Mr Phathudi Maponya, Dr Neo Morei and Ms Baitseng Rangata with the beneficiaries of the Maponya Attorneys bursary fund.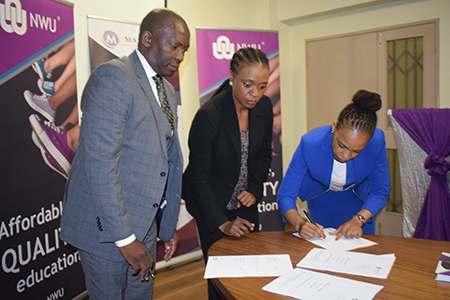 Mr Phathudi Maponya, Dr Neo Morei and Ms Baitseng Rangata sign the Memorandum of Understanding.