This man's books balance
"What have you done?" asked Prof Nico van der Merwe – his face showing total disbelief. He had just entered Room 115 of Building E5 – or rather he had been dragged there from where he had been sitting behind his desk, unaware, working, a moment before.
With his short blonde hair and sheepish grin his eyes scanned the room. He saw the decorations and the plates of refreshments. He saw his friends' faces full of appreciation. Then Jan Kempdorp's Nico van der Merwe, from Vaalharts High School, shook his head and laughed.
The South African Institute of Chartered Accountants – SAICA – announced their Top 35 for under 35s again this year, and Nico was named the overall winner in the academic category for chartered accountants (CAs). SAICA's criteria are strict and their evaluation process very thorough. Who else and who more eligible?
"I have known him since his student days and he was a real model student," said Prof Susan Visser, Vice-Rector: Research and Planning, who was his lecturer and supervisor for his master's degree and doctorate. "Motivating accountants in a class is a challenge, and Nico always had that ability. He is a lecturer who walks the second mile."
It was now the turn of Prof Fika J van Rensburg, Campus Rector. He pointed to a SAICA information board standing to one side: Nico is the epitome of the realisation of SAICA's motto. We cannot wait to see what Nico is going to achieve in the next 35 years. "Nico, we are proud of you." Develop, influence, lead. That is SAICA's motto.    
"It is obviously very nice to be acknowledged for the hard work that one does and to hear that your career means something to someone," Nico said a few days after the function.
You hear from his colleagues that students describe him as their favourite lecturer. Award for best NWU lecturer in 2008. Institutional Award for Excellence in Research in 2010. Rapport Faculty Winner for Inspiring Teaching in the same year.
"Constant renewal motivates me. I also do not like the status quo, but I like to change myself and my circumstances," he said. Because: "I think that the importance of education is sometimes underestimated. Education is necessary to bring about change in South Africa. The answer to inequality lies in education. If I take only my field, chartered accountancy, we all try to make a real difference as it is a scarce skill. It is not about the place of one's university in the world ranking, it is about what your university offers to the immediate environment."
He celebrated his 35th birthday on 23 March. A young shoot with a growing shadow.  
"My objective for the future is to improve the CA programme even further as CA programme leader. I would also like to advance to a higher management position where I can make inputs on that level if I am trusted to do that."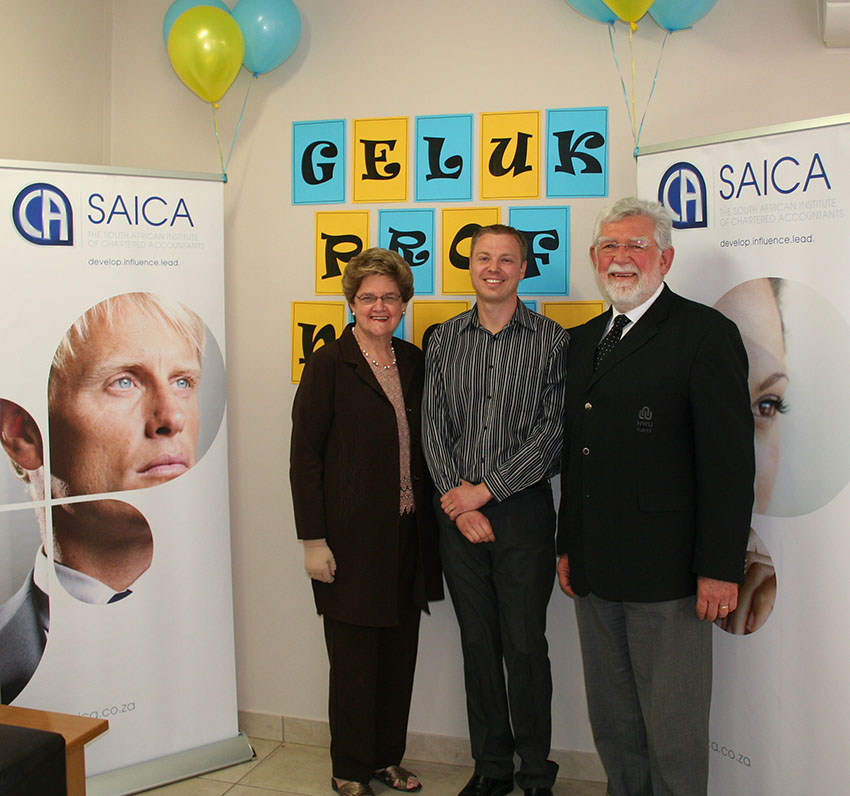 Prof Susan Visser, Prof Nico van der Merwe and Prof Fika J van Rensburg at the celebration function.