Lifeline and NWU work together for change 
The Khensani Wellness Centre and the Thirisano Wellness Centre (both branches of Lifeline Vaal Triangle) recently received a table and two chairs with compliments of benefactors at the North-West University (NWU).
Staff members from the two centres recently assisted Melinda du Toit – a PhD student within the Optentia Research Focus Area on the Vaal Triangle Campus of the NWU, with the gathering of data for her research.  She thanked them for their hard work by raising funds to buy each branch a portable table and chairs:  much needed items when they do work in the community.  Due to a shortage of funds, volunteers currently sit in the shade on the ground when doing work within the community. At the recent year-end function of Lifeline Vaal Triangle, these gifts were presented to both centres.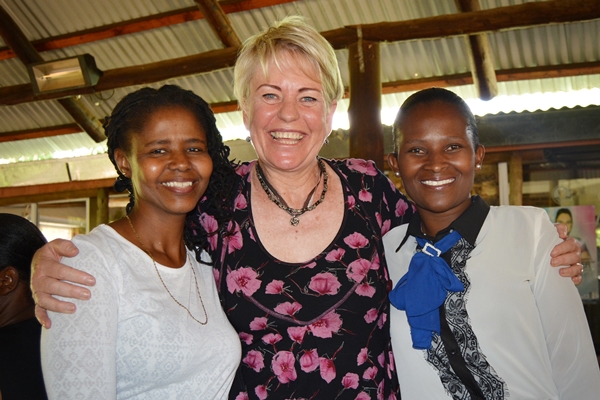 Olivia Sekete (Thirisano Wellness Centre, Palm Springs), Melinda du Toit (NWU) and Ntsoaki Mokoena (Khensani Wellness Centre, Sharpeville).
Melinda thanked the staff members of the two centres for their professionalism, punctuality and helpfulness during the project and said that she hopes the new furniture will make their work easier in the future.  Currently the fieldworkers have to seek out shade under trees to conduct their services.
The furniture is light and portable because volunteers will have to commute with it to various places within the community and be able to take it on a taxi.  The Khensani Wellness Centre and the Thirisano Wellness Centre celebrates 10 years of operation this month and serves the communities of Sharpeville and Palm Springs with counselling services.  
Location
Vaal Triangle Campus
Hendrik van Eck Blvd
Vanderbijlpark
South Africa