Let's stand together!
Dear reader, let me start by saying that it is going well on our Campus! This, despite attempts to depict us as racist or as an apartheid enclave. We must not allow these unwarranted labels to drag us down, but rather celebrate and embrace our true character and identity!
Like other universities in the country, the NWU Potchefstroom Campus has been under intense pressure. I would like to correct some misconceptions and dispel rumours. I would also like to reaffirm each and everyone's right to freedom of speech and association, and the right to demonstrate.
There is a misconception that the University paid off service workers. The fact is that the University makes use of external companies (service providers). According to the contract with these companies, their employees are not allowed to disrupt the daily activities of the University. After this did occur, the University notified these companies that these workers are not allowed to enter the campus. Further action against these employees are in the hands of said companies.
Any grievances from these employees are a matter between the employees and the respective companies. The University is, however, in constant communication with the companies.
We have given our written reassurance to these companies that the University will enable them to compensate their lowest level employees in accordance with the nationally revised minimum wage, when the national process has been completed. Study benefits will henceforth apply to permanent personnel of these companies working on campus. As a prerequisite of future tenders, the University will require a guarantee that the current employees continue to be employed.
The University's policy stipulates that it will only deliberate with formal and accredited student and labour organisations as supported by the recent ministerial directive. (However, the University will not discuss labour issues with student organisations.)
Student organizations are free to affiliate themselves with the current student structures of the Student Representative Council. As of yet, these groups have chosen not to.
Affiliated organisation must comply with the following requirements:
That they abstain from making racist comments and, where such comments are made on their platforms, they distance themselves from these comments and take the necessary steps to prevent them. There are currently numerous examples of racial hate speech by members of pressure groups and their supporters.
That inciting violence, intimidation, the burning of buildings, and the disruption of the core business of the University not be instigated nor approved. There are also numerous examples of this.
They must observe and promote the values of the University which are: respect, integrity, commitment and accountability.
They must acknowledge that the University is a place of debate where everybody's opinion is taken into account. The disruption of such events, which was executed by certain pressure groups, is not allowed.
The reputation and image of the University may not be damaged by lies and half-truths in order to promote an own agenda. We must always strife towards the search for a middle ground where there is respect for everyone's point of view.
We are a diverse country and we want a future where we are united. In an election period it can easily happen that the University, and the country, gets politicised and polarised.
Therefore we will encourage healthy academic debate, we will build and improve our student identity through our values of love for thy neighbour, respect and tolerance. By doing so we want to optimally ensure that no person or their rights are excluded, without allowing small minority groups to disrupt the harmony that prevails on campus or the continuation of the our core business.
Let's stand together!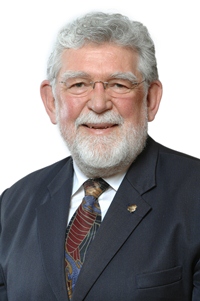 Fika J van Rensburg, Rector of the NWU Potchefstroom Campus.