Lee-Anne Diab - Improving athletes' recovery through science
North-West University (NWU) alumna Lee-Anne Diab has turned her passion for sports into a successful career.
The sporting fanatic is currently the first female sports scientist in rugby at The Blue Bulls Company, and one of the first women consulting for national and international sporting codes.
She is also the chief executive officer and sports scientist at Fierce Pro Recovery Centre, which uses the latest scientific recovery modalities for injury prevention to enhance athletes' performances during the season and on game days.
"The most rewarding feeling is working with athletes and seeing them grow and reach their full potential," says Lee-Anne.
Having broken so many boundaries in a male-dominated environment, Lee-Anne says that having the scientific knowledge and being passionate about her career has given her an added advantage.
She advises women who work in male-dominated environments to stay focused, dedicated and to believe in themselves.
"Women also need to create opportunities for themselves by setting realistic and measurable goals," says Lee-Anne.
More about Lee-Anne
She completed her BA degree in human movement science and psychology in 2011, and obtained her BAHons degree in sport science in 2012, both at the NWU.
Lee-Ann is aiming to complete her master's and doctoral degrees in recovery in the next five years.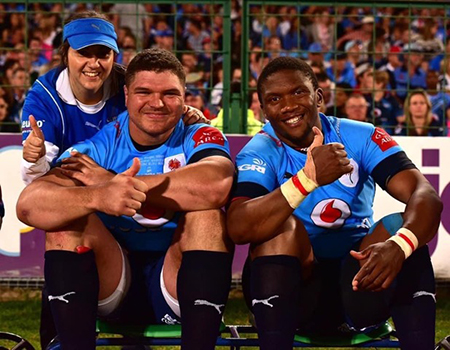 Lee-Anne Diab with professional rugby players Werner Kruger and Bandise Maku.